A Look at Political Cartoons: Then and Now
Published on August, 20 2020

Since the onset of free press, cartoons have served as its more daring compliment. Here is a run through of some of the earliest to some more recent icons that have made a significant contribution to this indispensable form of communication and art.
by Claire Davenport
The first cartoon appeared in Ben Franklin's newspaper The Pennsylvania Gazette on May 9, 1754. While the medium, woodcut, and the image are fairly simple, the message is clear and directly takes on the absence of unity between the American colonies at the time.
It was believed that a snake would resurrect if its severed parts were reunited before the stroke of midnight, and this cartoon plays on that superstition. It was reprinted and reproduced several times throughout American history and continues to appear in history books today.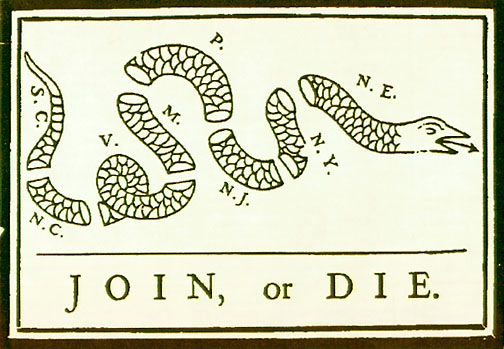 Using grease crayon on wax paper, Robert Minor drew 'At Last a Perfect Soldier' for the left-wing monthly The Masses in 1916. Minor was reputed as one of the best cartoonists in the U.S. and was hired by several major publications at the time including the New York Call as a both a cartoonist and war correspondent.
His journalistic career led him to join the American Communist Party with which he had brief success as the acting General Secretary in 1941. The cartoon below was shunned by the polite classes and eventually the U.S. Post Office refused to deliver any versions of it, claiming that it violated the Espionage Act. The Masses was eventually shut down after a legal battle surrounding this image. Anti-American is likely just how it was perceived and how the times have not changed much.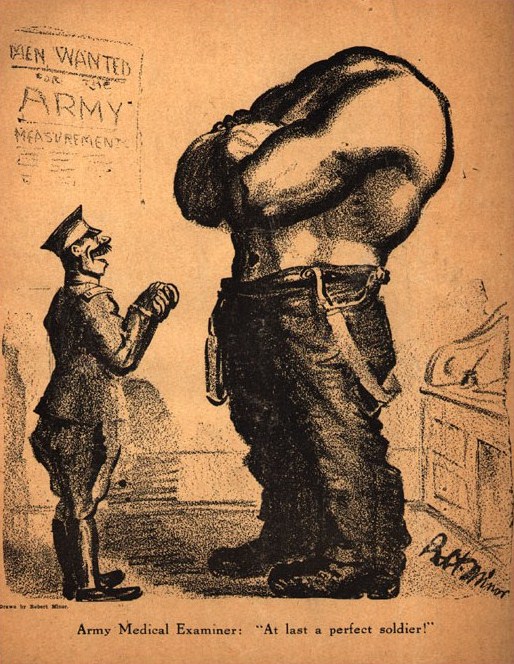 Another arguably enduring image of then and now is that of William Hogarth's 'Gin Lane' which at the time of print in 1751 was used in support of a government crackdown on gin consumption after it was tied to a rise in criminality and social unrest.
The image was etched from copperplates which can now be viewed at the Metropolitan Museum in New York. A second image called 'Beer Street' was supposed to predate 'Gin Lane' and conversely showed its inhabitants in rude health as a result of drinking its notably home-brewed beer.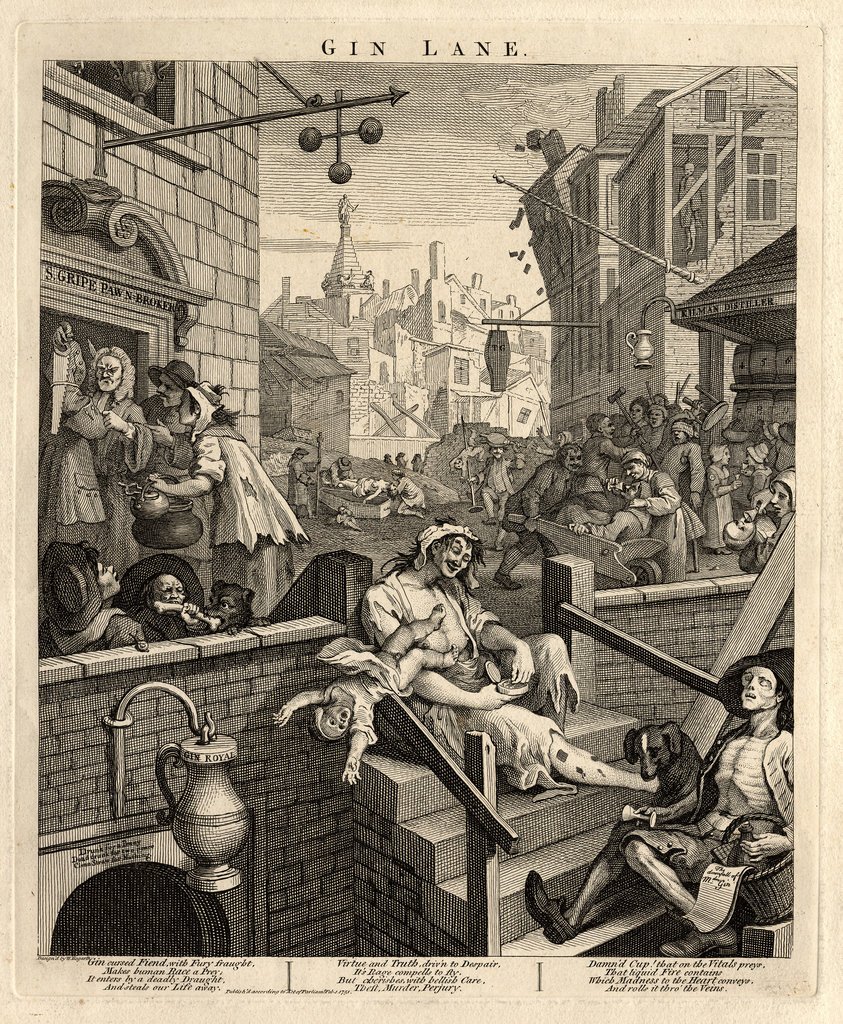 A man who can be widely credited with popularising both a style of drawing and the presence of cartoons in the press is Herbert Lawrence Block known as Herblock. His cartoons were so unapologetic that one of his most widely-known, 'Here He Comes Now,' depicting a pre-presidential Richard Nixon crawling out of a sewer, had the politician cancel his subscription to The Washington Post in 1954.
Herblock is the most decorated of all cartoonists having won the Pulitzer three times for his cartoons and sharing a fourth with the editorial team who worked to uncover Watergate.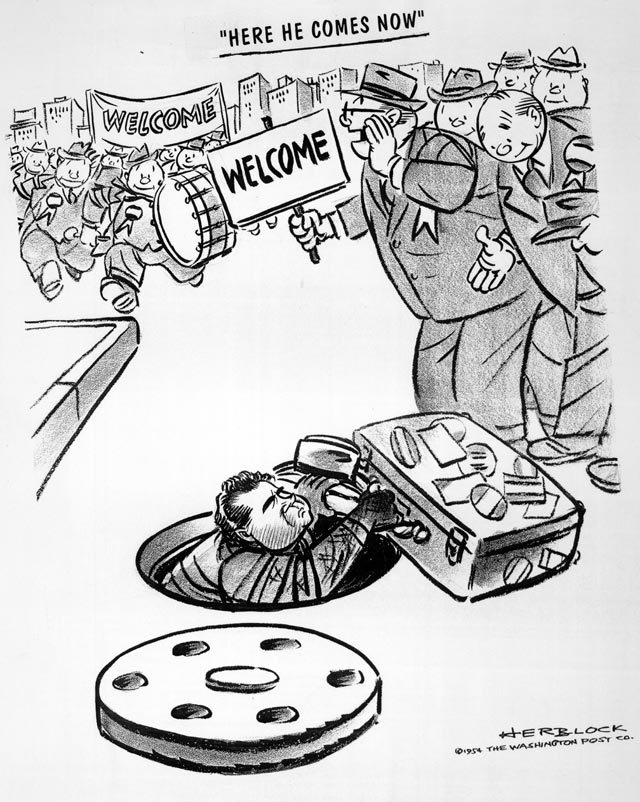 Herblock's highly stylised cartoons paved the way for a generation of acerbic and stylised cartoonists to come. Many were also terribly funny.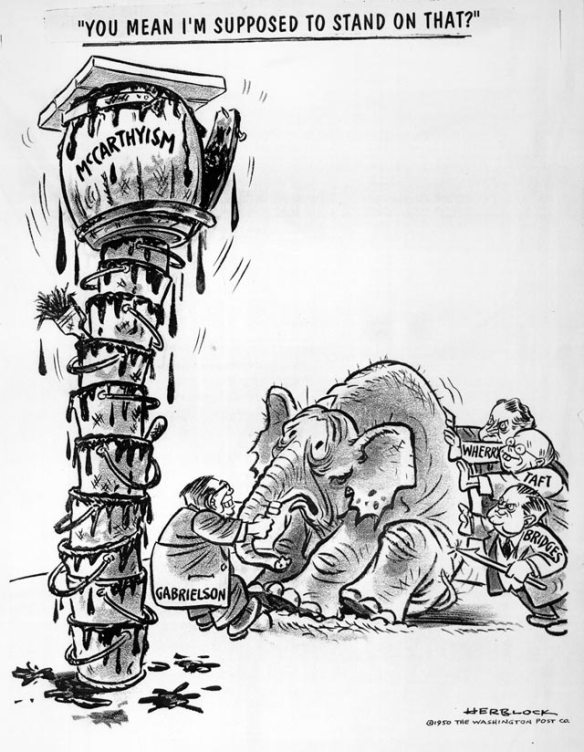 In this cartoon the Republican elephant is being dragged to balance on a tar and smear campaign launched to expose so-called communists. With this cartoon Herblock managed to coin the term McCarthyism which will long continue to outlive him.
Like most editorial jobs, cartooning is also disproportionately populated by men. Signe Wilkinson, a cartoonist who tackles gender equality in addition to the usual news diet, was the first woman to win the Pulitzer Prize for editorial cartooning.
She began her career at the San Jose Mercury News and then moved to the Philadelphia Daily News. Since then she has published several books of her cartoons including one called 'Abortion Cartoons on Demand.' Below are two of recent pieces.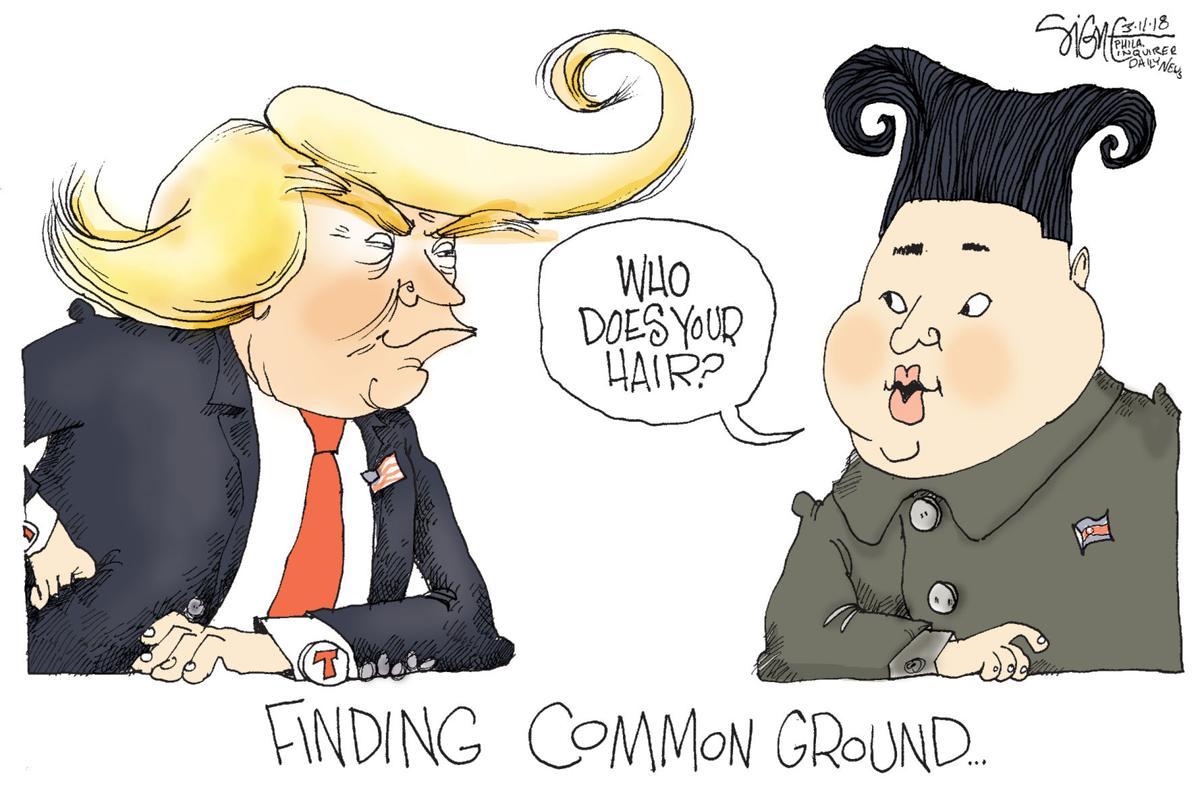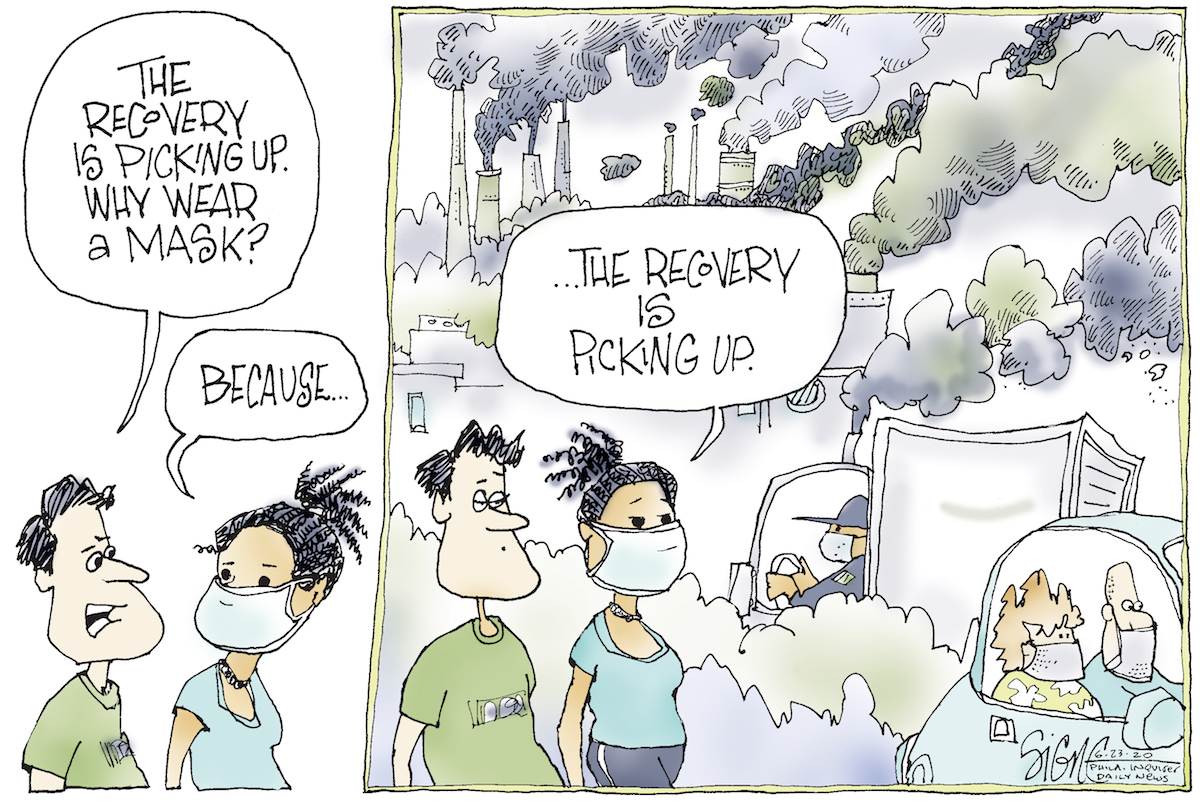 Male, female or any other gender for that matter, an article about cartoons cannot leave out those who have been killed as a direct result of their work. On Jan. 7, 2015 two Al Qaeda gunmen opened fire in the office of the satirical French magazine Charlie Hebdo renowned for courting controversy with its covers. The gunmen killed 12 people, among them five staff cartoonists, and injured 11.
The incident happened shortly after Hebdo had published a series of covers depicting the Prophet Muhammad which in itself drew criticism as Muslims are taught that both Allah and by that token the Prophet cannot be depicted by the human hand. As a result the practice of drawing either is believed to be insulting, certainly by the more devout. Here is just one of those enduring images in that collection.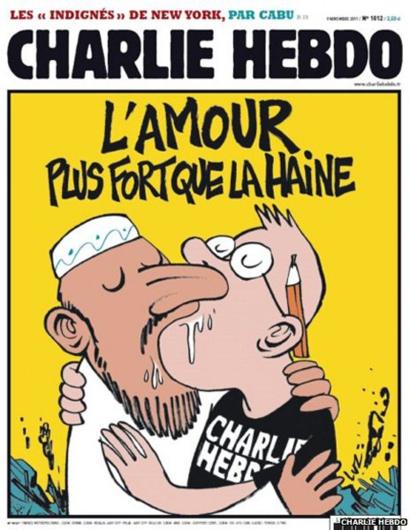 The Charlie Hebdo is perhaps the most famous incident in the recent history of silencing cartoonists, but certainly not the only one. This year the European Press Prize shortlisted 16 cartoonists who expressed profound observations through their cartoons such as the Vatican's avoidant culture and the effects of climate change. One of ur nominees, Turkish cartoonist Halit Kurtulmuş had his cartoon 'World Politics' censored by another contest it was nominated for, despite being one of the finalists.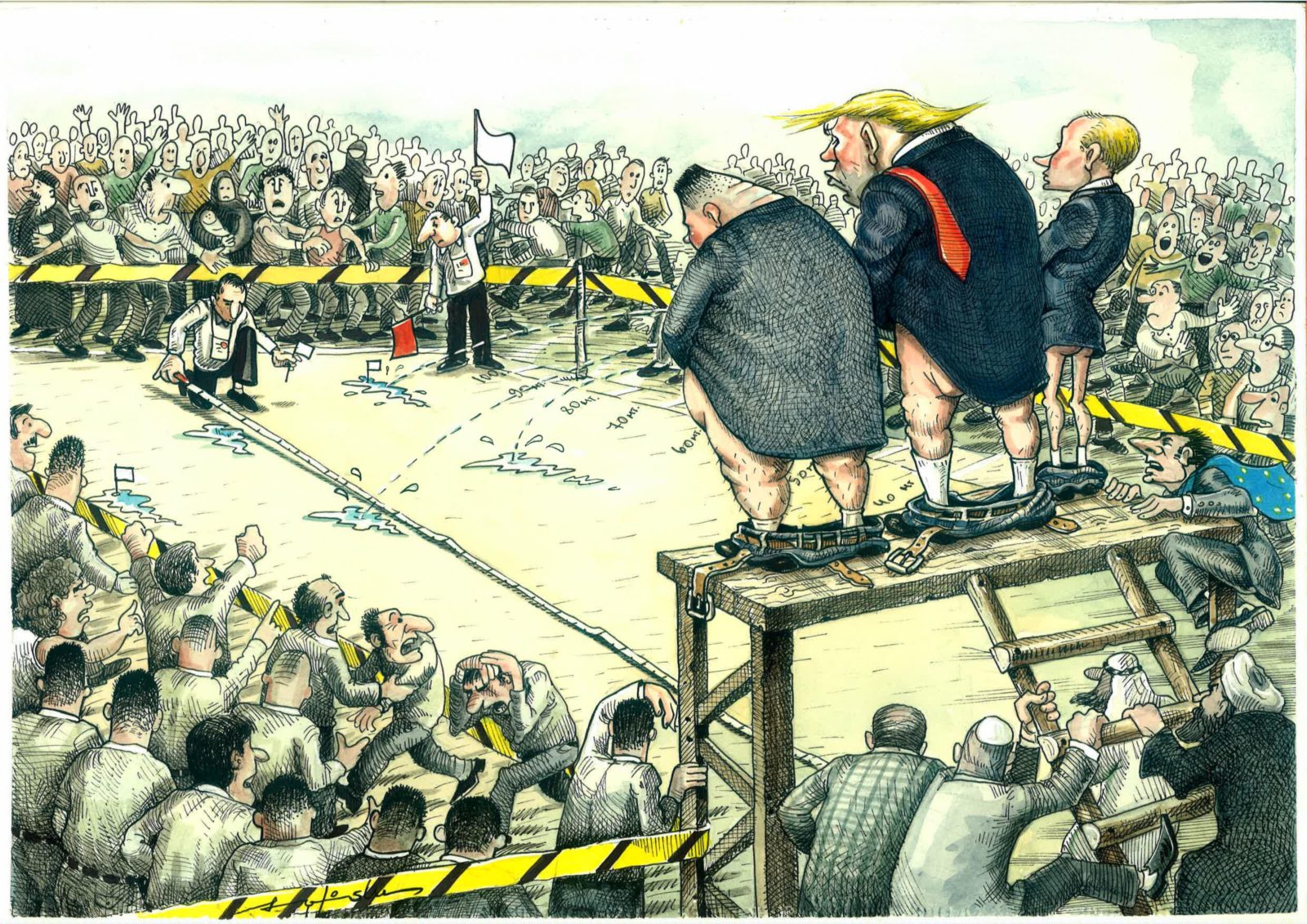 "Censorship is one of the biggest problems for a cartoonist," Kurtulmuş said. "It is very sad, because this situation is seen in many countries of the world including my own."
See the full shortlist for the European Cartoon Award here.