The
Public
Discourse
Award
2023 Winner
"She lost consciousness as it was happening and she's actually grateful she did." What we know about the rapes perpetrated in Ukraine by Russian soldiers
Individual reports of rape began appearing practically from the beginning of Russia's invasion of Ukraine, but the scale of these crimes started to become apparent only after the Russian army had left the cities and villages in the Kyiv region. As of yet there aren't even approximate numbers, and it will take years to gather the necessary data. Mediazona has examined the testimonies of victims of assault that are currently available, as well as the reports given by psychologists working with these victims.

"One girl finds it difficult to speak because while she was being raped, her face was beaten, and her teeth were knocked out. In the Ukrainian language, the word for this is гугнявить," says Ekaterina Galyant, a clinical psychologist from Kyiv, pausing at length.
She is currently in Tallinn, Estonia, working in two local maternity hospitals with refugees from Ukraine – these women aren't necessarily pregnant, but examinations and consultations are offered to all arriving Ukrainians. Ekaterina has qualifications in both psychology and medicine, so she is "both a doctor and a psychologist" for the refugees.
Three girls that were raped by Russian soldiers – 16, 17 and 20 years old – are not currently in Tallinn. They contacted Ekaterina over social media, two of them having been advised by friends. The psychologist says that she works with them individually over Zoom: her camera is on, the victim's remains off. Ekaterina does not know their real names and refrains from asking too many questions for now – sometimes the conversation lasts only 5-10 minutes, then the girls start crying and hang up. It's distressing work for Ekaterina; she says she would burn out if she took on another victim of wartime assault.
"Two of the girls are from Bucha, and one is from Irpen," Ekaterina Galyant continues. "Naturally, none of their requests literally said: "I was raped, help me." The women mostly wrote things like: "I see no reason to live," "I have suicidal thoughts," "I can't sleep," "I can't eat," "I hate my body, I can't even bring myself to touch it," and so on. One patient with suicidal ideation found me through a channel for volunteers. We spoke over Zoom, at first I was collecting background information. I thought she might be clinically depressed and that I needed to contact a psychiatrist – only later did she tell me that she had been in Bucha and that she had been raped. And from that moment on she has been in therapy."
All three of the girls' stories are very similar, says the psychologist. At first it was actually confusing: "I initially thought there's been a sole perpetrator, some kind of morally perverted monster – there are people like that during peacetime, too. But here they came in groups and all did the same thing! Maybe they had received orders or had some kind of plan… [the victims] are all basically telling the same story."
The victims' recollections appear to be divided into three parts, she continues: at first, the girls told her how at the beginning of the occupation the Russian military went аround their homes and noted down who was living there and whether there were men among them, and confiscated mobile phones. Then, they describe how the soldiers began looting; according to Ekaterina, "they even took an iron" from one of her clients. And about a week and a half before their retreat from Kyiv, "the atrocities started".
"[The Russian soldiers] took all the men, and no one knows what they did to them," says Galyant. "There were basically only women and children left [in the houses]. The father of one of the three girls was killed during the occupation: he had gone out in Bucha to find groceries and was shot, she said. She never saw the body, but one of the neighbours supposedly did. He never returned, and right now she isn't even able to look for the body. We haven't gone near that subject yet."
All three girls say that the military went round the houses in groups of three to five, of various ages: "Most were young soldiers, under 30, accompanied by someone older, a 45 or 50-year-old. Someone their fathers' age, roughly speaking" says the psychologist. In the evening they would come into the houses. All the soldiers, as the victims recall, were drunk.
"If there was some kind of booze in the house, they would take it out, sit down in the kitchen, and force the girls to cook and serve something to them – if there was anything to eat in the house. And after dinner, the raping would start" Ekaterina says. "In the girls' cases [that Ekaterina works with], it only happened once, but it was gang rape. And the more the girls resisted, the more the soldiers… well, one girl had her teeth knocked out, she said that she screamed and tried to scratch their faces and fight back. But a 16-year-old girl against five men…".
Ekaterina's 17-year-old client lost consciousness during the rape: "and she's actually grateful she did." All three girls managed to escape from their houses when the soldiers who had raped them fell asleep. One of the girls – the one who lost her father – was spotted by a neighbour on the street.
"They took her to some house where there were people hiding in the basement," the psychologist recounts. "She said that while waiting for the evacuation, they barricaded themselves in the basement and didn't leave. There were people down there who had already died – there was no food, and they couldn't take out the corpses. I asked her where they got water from: these are sewer pipes in those basements of old houses, so they made some holes in them and got a little water that way."
Ekaterina Galyant does not know exactly where the girls who have contacted her are currently located. This is another part of their agreement. While trying to establish their medical background and provide assistance, the psychologist also learned of their physical injuries.
"One girl has abrasions, her arm is hurt badly – not broken but there's been some severe bruising," she says. "We've tried at the very least to give a rough diagnosis of what she can't properly describe. Well, she can't use her right hand. My biggest concern is that none of these girls have been to a gynaecologist yet. They all say that when they had a shower for the first time afterwards, they wanted to wash themselves thoroughly, to scrub off their skin. And that's what they started doing: pouring alcohol-based solutions into their vaginas… That's also something that really pains me. I know that two weeks or more have already passed and if they have sexually transmitted diseases or pregnancies, we need to help somehow."
"She was sitting with a fur coat over her naked body. They had shot her in the head."
"We have a joint application from the victims of rape aged 14 and over, some of whom are pregnant," writes Vasilisa Levchenko, a psychotherapist from Kyiv, on her Instagram page, "pregnant by the fucking rapists. To clarify: by the occupiers, the Russian soldiers who stole gadgets and gold from their homes, who searched for a blender or a food processor to bring as a trophy to their wives, and then raped innocent Ukrainian women <…> Between us, we share out requests for help in the team chat. Three for Katya, two for Nina, and Ella takes on the hardest cases, women who are numb and can't say a word."
Levchenko told Mediazona that five victims of sexual violence had approached her personally. But even gathering statistics within the 'Psychological Assistance'project she works with is still impossible: "Every day we receive hundreds of requests, I can't imagine how we'd begin counting the ones concerning assault."
Until early April, residents of the Zahaltsi village in the Kyiv region had to hide two young women from the Russian soldiers, as Roman Vagrant explained to Mediazona. When the war began he was in Borodyanka, and he fled to Ternopil with his family. His relatives live in Zahaltsi, the village that had been occupied by Russian soldiers since the beginning of March.
"Alcohol, cigarettes and women – that's all they cared about." says Roman. "Two girls had stayed in Zahaltsi. People hid them, because someone told the soldiers that there were women in the village, and they were looking for young women."
"I heard a single shot, the sound of a gate opening, and then the sound of footsteps in the house," a woman from a village in the Brovary district, told The Times. "It was [a soldier named Mikhail] Romanov, returning with another man in a black uniform, who looked about 20. I shouted: 'Where's my husband?' They looked into the courtyard and saw him on the ground by the gate. The younger guy pointed his gun at my head and said "I shot your husband because he was a Nazi."
According to Natalya, her young son hid in the boiler room of the house while the soldiers were raping her. She remembers that the rapists held a gun to her head and made sarcastic remarks about her. They raped her three times. "When they came back for the third time, they were so drunk they could hardly stand," she recalled. "Finally they both fell asleep on the armchairs. I crawled to the boiler room and told my son that we needed to run away really fast or else they'd shoot us."
Elena, from the captured city of Kherson, weeps while telling Radio Free Europe/Radio Liberty how she was raped by Russian soldiers. She had been tracked down as she was coming back from the shop: "I didn't even have time to enter the house. They came up from behind me. I didn't have time to grab my phone. I didn't have time to do anything. They just threw me on the bed, silently, and took my clothes off without saying a word. At 4 o'clock in the morning they left, just like that. They didn't talk to each other. They just called me a khokhlushka and a Banderovka. And then said, 'Okay, we're expected at the post. We're off.'"
"He took me to a nearby house," 50-year-old woman from one of the villages in the Kyiv region told the BBC. "'Take off your clothes or I'll shoot you,' he ordered. He constantly threatened to kill me if I didn't do as he said. Then he started raping me. While he was raping me, four more soldiers came in. I thought I was finished. But they took him away. I never saw him again."
She describes her rapist as "a young, slender Chechen militant." Before raping the woman, he took her to the nearby house "at gunpoint", and when she returned home, she saw her husband had been wounded in the stomach. There was no way to get to the hospital – there was fighting going on – and so the couple took refuge in a neighbouring house, where the husband died two days later. She buried him in the backyard.
After her husband's death, she found out that another woman had been raped and killed in their village. When the police came to exhume her body after the Russians left, it was found naked, with a slit throat.
When Russian troops left Bucha, a nephew of one of the city's residents found the body of a murdered woman in the basement under his barn.
"Slumped sitting down, bare legs akimbo, she wore a fur coat and nothing else," as the New York Times report describes, "She had been shot in the head, and he found two bullet casings on the ground. When the police pulled her out and conducted a search, they found torn condom wrappers and one used condom upstairs in the house."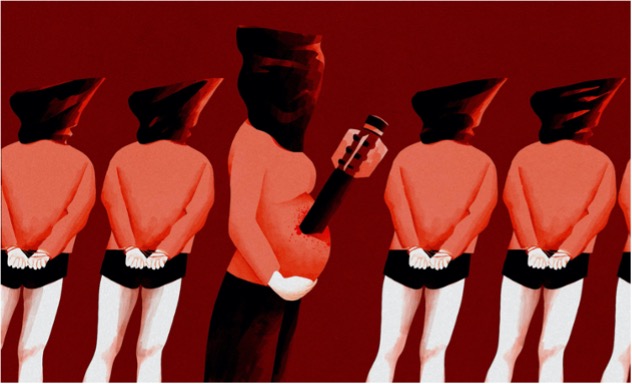 "He said I reminded him of a girl from school"
One after another, reports of rape began to appear immediately after the withdrawal of Russian troops from the Kyiv region in late March. Some publications were later removed by their authors, including a post by Ukrainian journalist Alina Dubovska about a nine-year-old girl in Irpin who allegedly was raped and mutilated by 11 soldiers.
"Because of the reaction to this story, I had to hide the post about the family of the girl who was raped and then died from my page," she explained. — "Partly as a result of the hate spewed in my direction, partly because I decided to reopen it only when the relatives allowed me to publish the evidence, so that no one would have any doubts".
The violence did not only take place in the Kyiv region. On April 3, Human Rights Watch published a report citing the story of a 31-year-old woman from the village of Malaya Rohan near Kharkiv. One Ukrainian woman who asked not to be named described how, on the night of March 14, a Russian soldier had broken into the basement of a local school where a group of women and children were taking shelter. According to the victim, the soldier took her to a classroom on the 2nd floor and forced her to undress and perform oral sex on him at gunpoint. He slashed her face and neck with a knife: "He said I reminded him of a girl from school."
Cases of rape have been repeatedly reported by Ukrainian officials. As far back as March 22, Ukrainian Prosecutor General Iryna Venediktova wrote that she had been "receiving reports about sexual crimes committed by the Russian military in the occupied territories".
She added that one of the two Russian soldiers who raped Natalia, a resident of the village of Bohdanivka in Brovary district, who said that her son was hiding in a boiler room while it had been happening, had been identified. This case was also mentioned in a report by Amnesty International.
"The husband tried to protect his family," Andriy Nebitov, head of the Kyiv regional police, said of the crime and the investigation. "He was born in 1985, a young man. He was gunned down in his own yard. <…> His wife went home with her child and tried to hide from this violence. But during the evening two men (one of them we have identified as [Mikhail] Romanov) returned to the house after consuming alcohol and under the threat of hurting her three-year-old son and shooting him in the same way they killed her husband, raped her. Apart from Romanov, there was another person, not identified by the investigation. These men were members of the Russian military. They left and then came back three more times. They raped her again, and again. Later she managed to break free and escape".
The Verkhovna Rada Commissioner for Human Rights, Lyudmila Denisova, spoke in early April about raped children in Bucha: she said a 14-year-old girl was raped by five Russian soldiers, resulting in her becoming pregnant, and an 11- year-old boy was molested "in front of his mother". Denisova said she also knew of many cases of sexual abuse in other places: one instance is that a group of women and girls had been held in the basement of a house for 25 days, and now nine of them are pregnant.
Oleksandr Vilkul, head of the Kryvyy Rih military administration, also spoke about rapes in Kherson Region: "We are encountering more and more terrible stories. Cases like those of a 16-year-old pregnant girl and a 78-year-old elderly lady in one of the villages near river Inhulets. This is something that can never be forgiven".
Ukrainian President Volodymyr Zelenskyy mentioned "hundreds of rape victims" in his recent address to the Lithuanian parliament: "Including underage girls, very young children… even babies! It is horrible to speak about this, but it is true, it happened".
Russian authorities dismiss the rape allegations. Foreign Minister Sergey Lavrov called the reports of murders and rapes in Bucha "a mendacious provocation" as early as April 5.
"Human psyche has a tolerance limit, beyond that it can endure no more."
Victims of abuse may keep quiet about what happened to them, especially if they suffer no injuries requiring immediate medical attention, explains psychologist Ekaterina Galyant. She anticipates that over time there will be more and more calls.
For now, Ukrainian victims can call the police, hotlines for psychological support, and the office of the Prosecutor General. There is no official statistics on wartime rape cases in Ukraine, and psychologists are ethically bound not to share information about their female clients with each other or with state agencies, Galyant notes.
"Collecting information about these cases can be quite time-consuming," says Yulia Gorbunova, a Human Rights Watch researcher in Ukraine who is now studying cases of rape in Bucha and Brovary near Kyiv. – In some conflicts, it took months and sometimes years before the true extent of these crimes came to light."
"Due to the pervasive patriarchal structure of society, some victims understandably will not tell anyone [that they were raped]," notes volunteer Leonid Romanov, who helps Ukrainian refugee women who have been evacuated to Poland. In Poland, abortion is only possible if the life or health of the mother is at risk, so if needed, volunteers can transfer the young women across the border to other countries where abortion is not an issue. But so far no one has approached Romanov.
However, between March 1 and April 11, 99 pregnant Ukrainian citizens applied to the Polish organisation "Abortion Without Borders", Anna Prus, a volunteer with the Warsaw-based Abortion Dream Team, told Mediazona.
"We do not ask people why they want to have an abortion, how they got pregnant, where they are from," Anna stresses. "We are not entitled to that kind of information. People sometimes want to talk to us about what happened around a pregnancy, but it's really depends on their desire to share the details."
Ekaterina Galyant argues that rape during the war may cause irreparable damage: "People in wartime situations need psychological help. Post-traumatic syndrome can manifest within three to six months after the traumatic event. That is, we are all not even there now, we are currently in a very acute stage of stress. And no one doubts that all Ukrainians will need this kind of help. Human psyche has a tolerance limit, beyond that it can endure no more – it causes some kind of sickness, depression and other things. And if there is war, and then rape is on top of that – that ruins the psyche utterly."