The
Investigative
Reporting
Award
2020 Winner
Trigger Warning
Trigger warning: suicide, self-harm, eating disorders

This investigation disclosed a large, hidden network of suicidal girls on Instagram. With closed, often anonymous accounts, they share their darkest thoughts, including images and videos of self-harm, suicidal attempts and their actual suicides. Andrine (17) was one of these girls. She killed herself and documented it on Instagram's hidden network. The network she was a part of has connections to at least twenty-three other countries all over the world.
Are you thinking about suicide?
Do you need help now?
Andorra: call 112
Armenia: call (2) 538194 or (2) 538197
Austria: call 142
Azerbaijan: call 112 or 510-66-36
Belarus: call 112 or visit this website
Belgium: call 1813, 106, 107 or 3
Bosnia and Herzegovina: call 0800-300303 or 124
Bulgaria: call 0035 9249 17 223 or 112
Croatia: call 01/48 33 888 or 112
Cyprus: call 112 or 199
Czech Republic: call 222 580 697, 549 241 010 or 112
Denmark: call 70 201 201 or 112
Estonia: call 655 8088 (Estonian), 655 5688 (Russian) or 112
Finland: call

(35

8) 09 2525 0111

, 010 195 202 or 112
France: call 01 45 39 40 00, 01 46 21 46 46 or 112
Georgia: call 116 111 or 2 421 422
Germany: call 0800 111 0 111, 0800 111 0 222 or 0800 111 0 333 (for children and youth)
Greece: call 1018 or 166
Hungary: call 116-123 or 116-111
Iceland: call 1717
Ireland: call 116 123 or 112
Italy: call

06 33777740

, 112, 800 86 00 22, 06 77208977 or 199284284
Kosovo: call 080012345
Latvia: call +371 67222922, +371 27722292 or 113
Lithuania: call 116 123 or 8 800 28888
Luxembourg: call 112 or +352 45 45 45
Malta: call 179 or 112
Moldova: call 0037360806623
The Netherlands: call 0900-0113 or 112
Norway: call 116 123, 22 40 00 40 or 112
Poland: call 89 19288, 89 527 00 00 or 112
Portugal: call 225 50 60 70, 213 544 545 or 112
Romania: call 0800 801 200, 0800 0800 20 or 112
Russia: call 051, 8495051, 007 (8202) 577-577 or 112
Scotland: call

0800 83 85 87

Serbia: call (+381) 21-6623-393,

33 47 007

or 193
Slovakia: call 051 / 7731 000, 112 or email [email protected]
Slovenia: call 116 123 or 112
Spain: call 717 003 717 or 112
Sweden: call 90101, visit this website or call 112
Switzerland: call 143 or 112
Turkey: call 182
Ukraine: call 73-33
United Kingdom: call 111, option 2, call 116 123, call 999 or 112, or text HELP to 85258
Trigger warning: suicide, self-harm, eating disorders
The cubbyhole in which Andrine (17) has hidden herself is so small she must sit on her knees. From her mobile she posts several entries on her secret Instagram account. Hundreds of Norwegian girls on this hidden network can read her messages about her wish to die.
NRK has investigated the dark network on Instagram. Andrine is just one of the girls connected to it. At least fifteen Norwegian girls in this closed group have, within a few years, taken their own life. For a long period, Andrine has been one of the most active users on this site – even into her last hours.
Between her bouts of crying she is hardly aware of the two adults standing outside her cubbyhole. She'd rather concentrate on the network and on getting the courage to send what will be a directly transmitted suicide note she writes in one of her last messages on Instagram:
(All censorship of the Instagram-postings has, in this story, been made by NRK)
Warning: these images contain graphic content that some viewers may find disturbing
"At last everything is ready," she writes. For nearly ten months she's been living in a private child protection institution. On this day the last brick falls into place.
Warning: these images contain graphic content that some viewers may find disturbing
She also sends several text messages to the staff on duty this late evening in March 2017. Just before 10.30 pm Andrine sends a message where she says goodbye to her mother.
"Tell her that I am sorry for ruining her life. Just tell her that she was the best mother I could ever have had."
In her room there is also a handwritten note. "Bye and thanks for everything," she writes, ending with a heart.
Warning: these images contain graphic content that some viewers may find disturbing
The staff finds out where Andrine is hiding and tries to get her to talk. Finally she agrees to unlock the door.
Everything now looks as if it will sort itself out, but on the way down from the second floor, the staff suddenly hears a sharp thump from the room where Andrine is.
Then everything is quiet.
The staff runs upstairs again, but gets no response. The emergency centre is being contacted, while the staff tries to break in with a crowbar.
Just a few minutes later an ambulance is on site, and the girl is being brought out.
But for Andrine it is too late.
After four days in a respirator in hospital, she dies.
In the cardboard box
The cardboard box with Andrine's things has been standing in the hallway for nearly two years. Her mother Heidi got it from the police just a few weeks after her daughter's suicide.
After that, it has remained there, untouched but never forgotten. Almost every day she looks at it, but is too afraid to open it.
That's because the mobile from that evening when Andrine died, is in the box.
Heidi is afraid there are things on it she actually does not have the strength to see.
After nearly two years she at last picks up the courage.
On the mobile there are two Instagram accounts: the normal one she followed herself, but also a completely unknown profile, "Sebrapiken."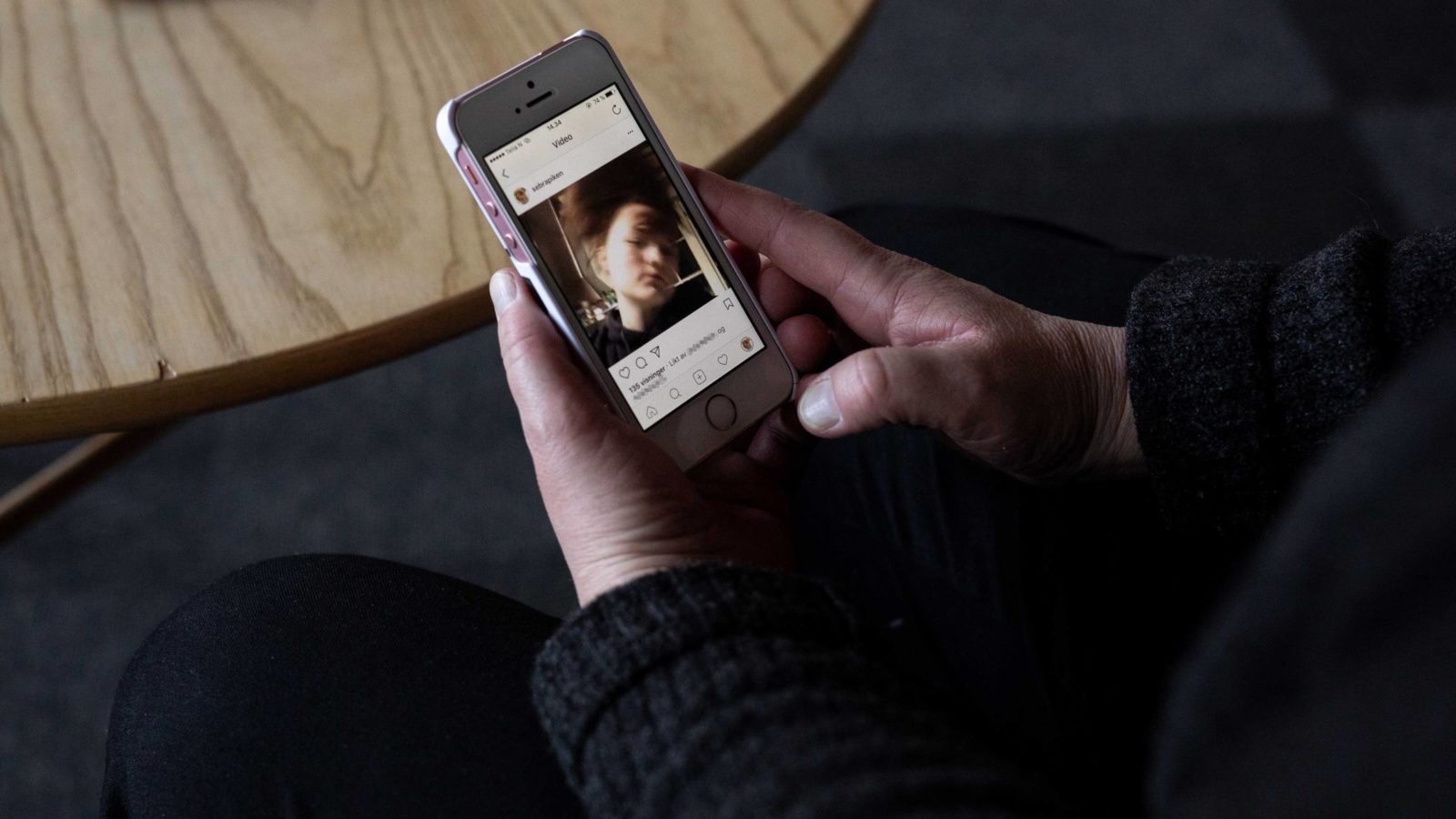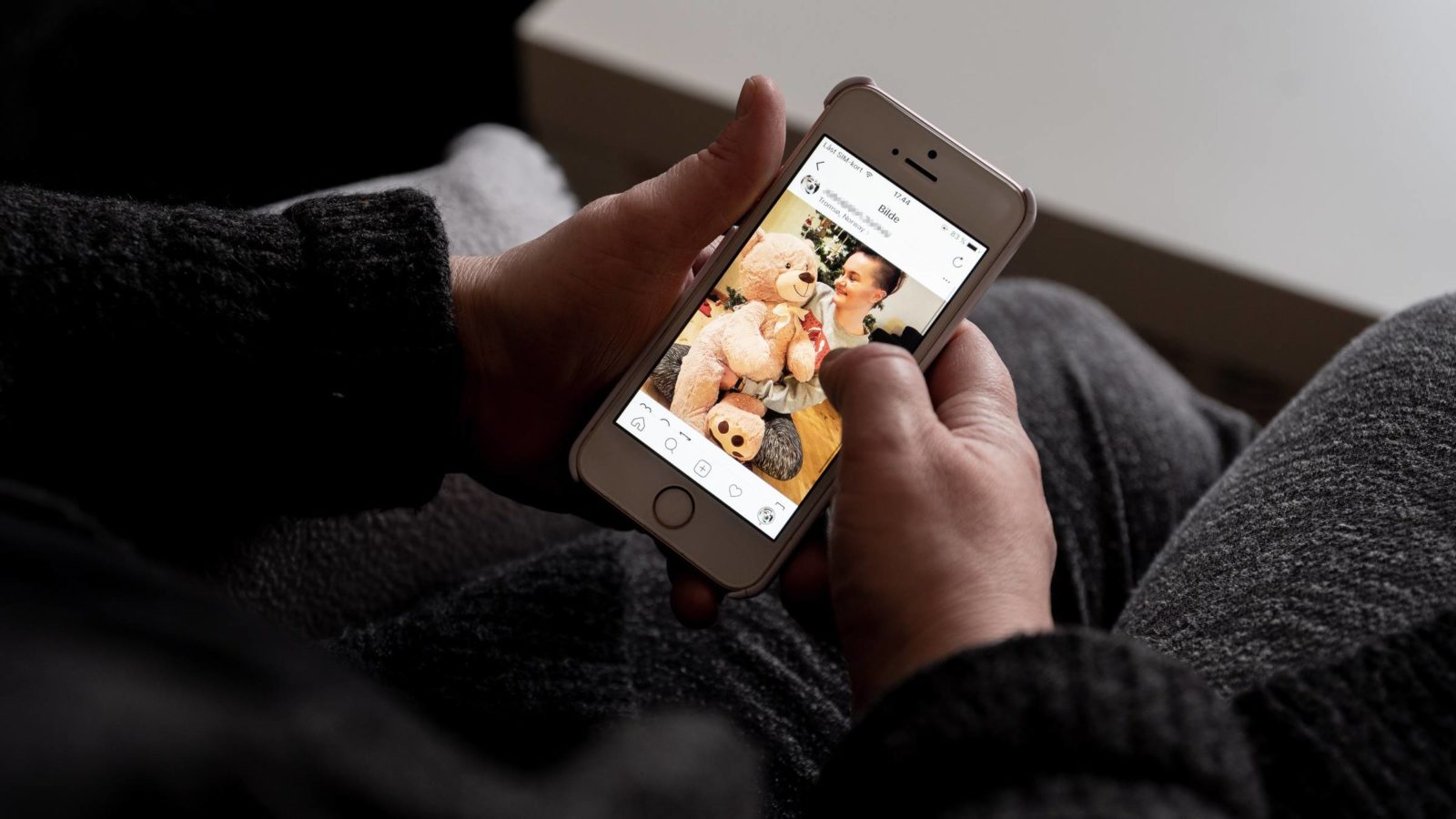 Photo: Patric da Silva Sæther
She logs in and feels how nausea is building up.
There she finds a dark and frightening world, full of girls like Andrine.
The hidden network
Trigger warning: suicide, self-harm, eating disorders
On a hidden network with private and often anonymous profiles, hundreds of girls suffering from mental illness are meeting. In this secret place they give each other comfort and support, but they also share their darkest thoughts.
But even worse: they are posting pictures and films of serious eating disorders, deep wounds after self-harm, suicide thoughts, attempts and methods.
They often mark the accounts with "TW" or "Trigger Warning" to warn followers of content that may affect them in a bad way.
From Andrine's mobile, NRK gets access to this secret room. Before she took her own life, she was one of the most active users in this enclosed environment. From her hidden Instagram account we find over 1,000 users posting depressive content of self-harm and suicide. Nearly 500 of the profiles are Norwegians. A mapping of this environment reveals that in just a few years, at least fifteen young girls have taken their own life.
– Immediately after the Easter break this year, a 22-year-old in Førde takes her life. Konstanse is also part of this world with several suicide attempts behind her. Before she dies, she deletes all her profiles on social media.
– Just a few days before, another suicide takes place. Cecilie can fill a whole room with her heart, but only fills a small corner of the sofa, her friends say about her. She is morbidly emaciated and is self-harming. The 20-year-old tries to take her own life several times and goes in and out of psychiatric treatment. On the eve of Easter 2019, she kills herself in Larvik.
– Leila Mariell from Vadsø has, for a long time, struggled with psychiatric problems and self-harm. She has been admitted on a number of occasions and has tried to kill herself several times. On Instagram and Twitter she has a lot of contact with others who also have difficulties. She finds a lot of support in this environment, but can also see that they can make each other more ill. By her followers she is seen as one who helps and support others, but she could not help herself. The 24-year-old dies in February 2019.
– In Østfold, a 17-year-old girl is together with another girl from the Instagram-group when she takes her own life in May 2018.
– Tine has several hidden profiles and is open about the environment she's part of. She thinks it is about supporting and helping each other and can perhaps not see how damaging it can be for her and others. The 34-year- old struggles heavily with mental disorder, has an eating disorder and is self-harming. Tine takes her own life in October 2017.
– Merete's great hobby is to sew and knit. She is training to be a child carer, but suffers mentally and has been in and out of institutions for many years. Finally this Haugesund girl plans her own funeral. In a final letter to her family she writes what is to be inscribed on her grave stone: Faith, hope and love. Merete dies in September 2017 at the age of twenty-nine.
– "Dear Mum, I'm writing to say goodbye. Love you so much. We will meet again." This farewell letter lies in a flat belonging to a 19-year-old girl in Bergen. She has just moved into her own flat, but suffers mentally and injures herself. Her wish to die has been there a long time. She takes her own life in November 2016.
– In Rogaland, a 16-year-old girl is admitted for psychiatric treatment. She suffers from eating disorders and serious self-harm. She takes her own life in August 2016.
– Anette is only fifteen. The girl from Brønnøysund has just gotten a summer job and wants to buy a motorbike with the money. In a few weeks she is about to start an electronics course at college. She kills herself in July 2016.
– In March 2016 Karoline from Bergen dies. The 20-year-old shared many difficult thoughts and wishes to take her life in the network on Instagram.
– In February 2016 another girl from Bergen takes her own life. Camilla was only eighteen years old. "Rest in peace, little friend," the family writes in the obituary.
– In the same month Marthe, who was also a part of the network, dies. She was bullied, injured herself and tried to take her own life several times. Marthe was only sixteen.
– "Karianne got peace at last," says an obituary from 2014. She was depressed and did self-harm, but did not share her darkest thoughts with her near ones or in treatment. Within the network she had close friends, but was only fifteen years old when she died. Karianne took her own life in Stavanger after having given the followers a warning on Instagram about her plans.
– Eline dies in Bærum summer 2012, twenty-two years old. Before her suicide she struggled for a long time with self-harm and depression. She was active on several blogs before she took her own life.
They're from all over the country and did not usually know each other outside the network.
They suffered from eating disorders or self-harm.
Half of them were below the age of twenty when they died.
Within the network, NRK has seen concrete examples on how methods for self-harm or attempts of suicide have spread from one member of the group to another. The worse an entry from a girl is, the more attention and care they receive from others.
Andrine
At only five years old, Andrine is bouncing around in her sister's gym-suit and two years later she turns up, proud and a bit nervous, to her first training session. Throughout her childhood and youth at school, gymnastics is something she really loves, also as an instructor to the younger children.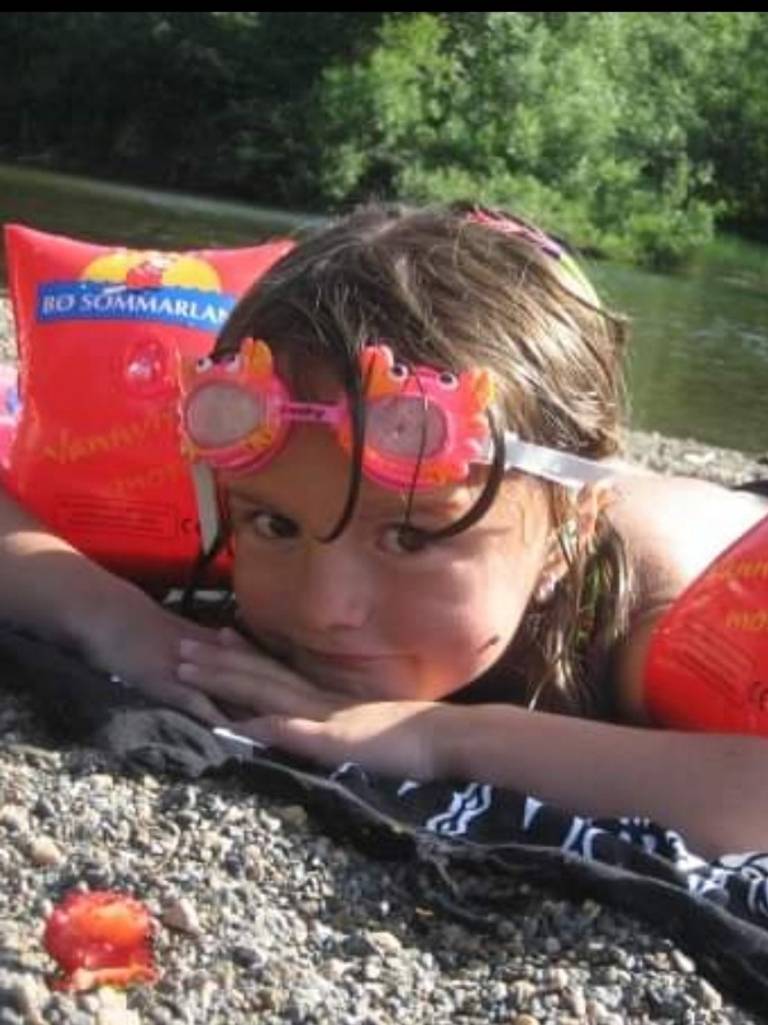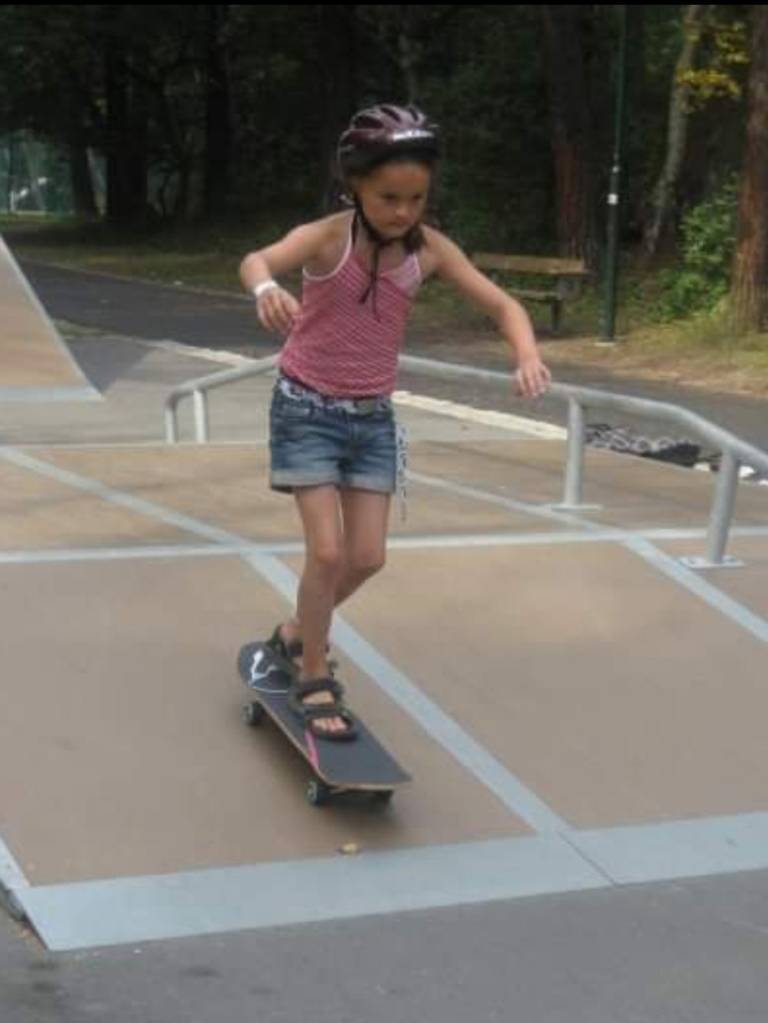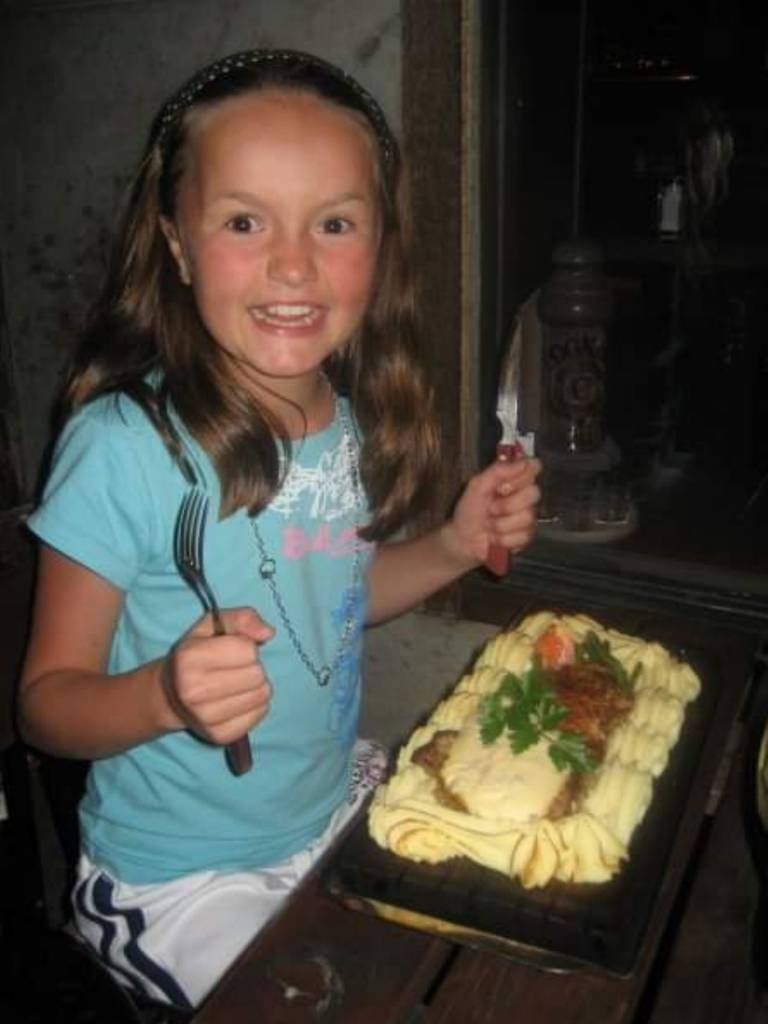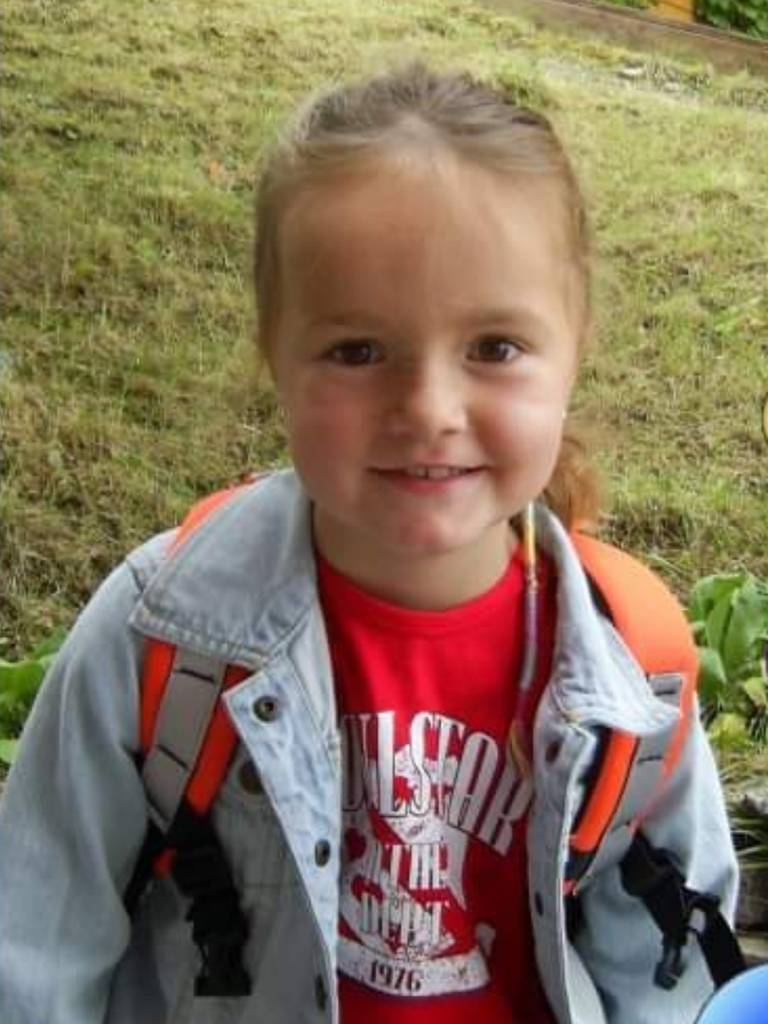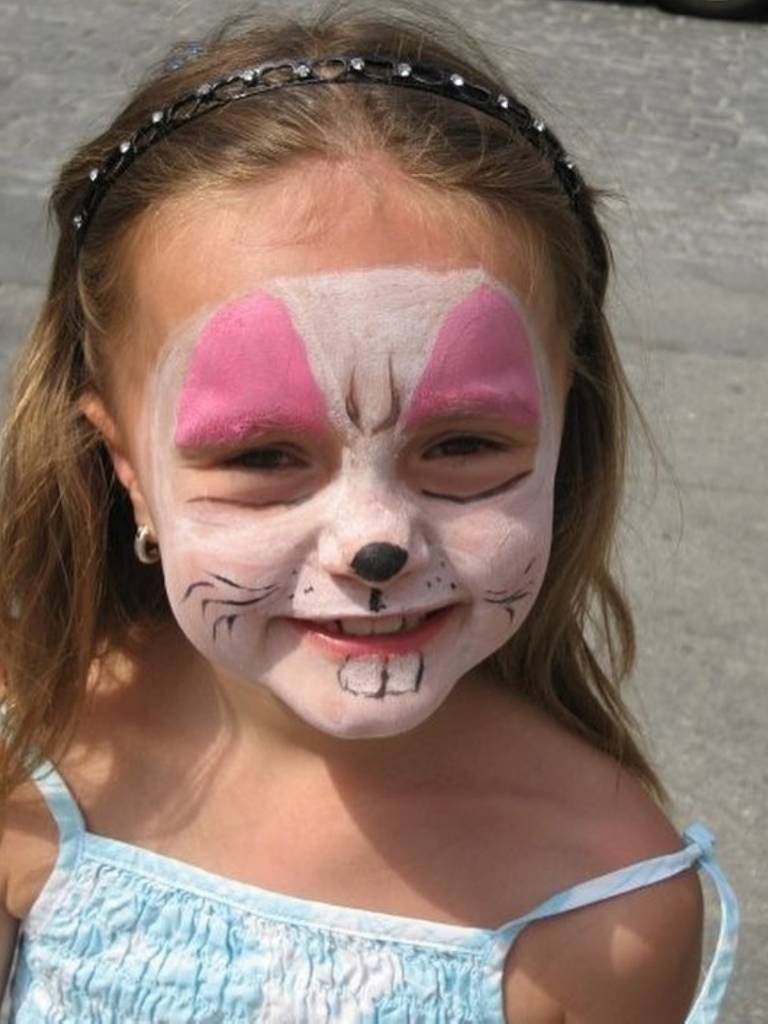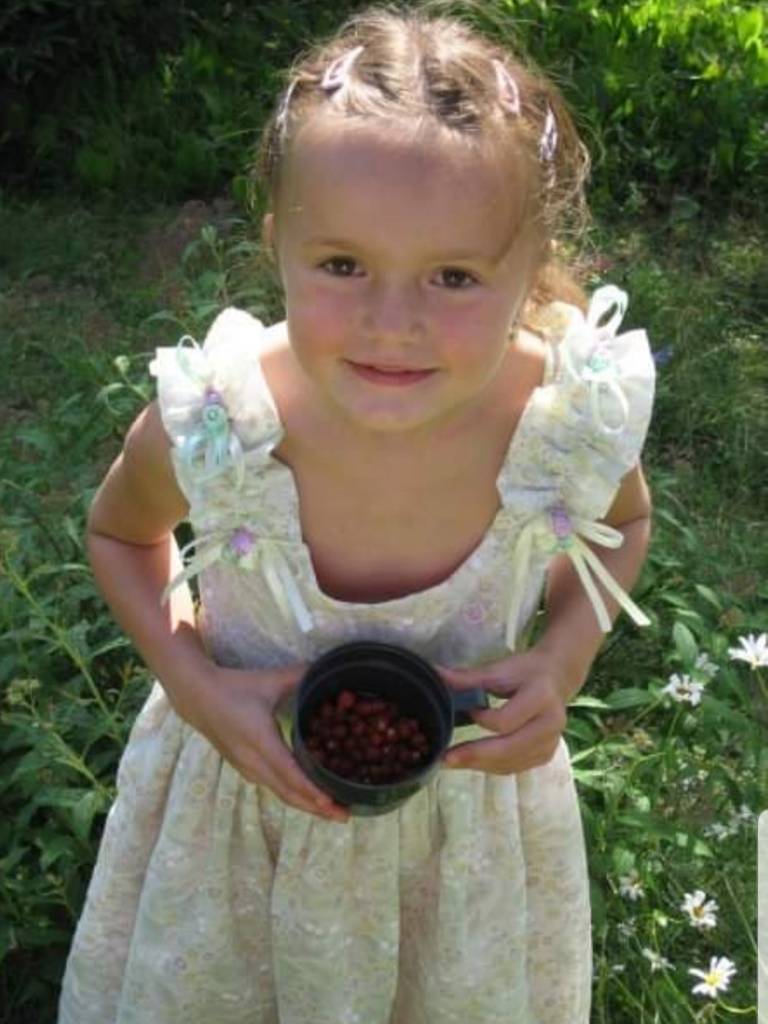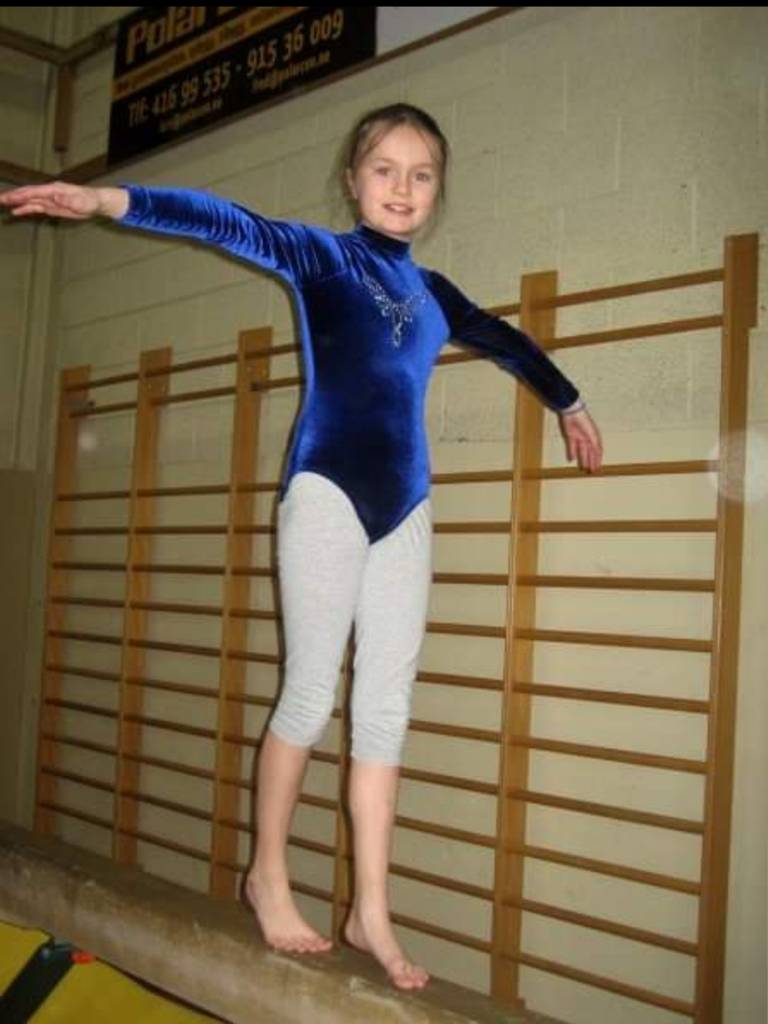 Andrine grows up just outside the centre of Tromsø together with her mother and nine year older sister. "She had a normal childhood with much care and love," says the mother.
At school she fulfils her duties and does well in most subjects. She has a winning way and lots of friends. She is a ray of sunshine with so much humour and high spirits that she is missed whenever she is away for just one day.
– "Andrine was very easy to like. We joked a lot together, even after she became ill. We could say one word wrong, look at each other and then burst out laughing," says Heidi.
Andrine paints and draws and likes to potter around the house and her room. She has her own style, a bit playful and a bit boyish. When she puts on make-up, it is always soft and discreet. Andrine knows what she is doing.
Outward she appears tough and comfortable, but without anybody knowing it, she has serious psychological problems.
In February 2017, Andrine posts an old picture of herself. It is from a holiday with palm trees and flowers in the background. Andrine is smiling to the camera, dressed in a singlet and shorts.
Soon, she begins to cover herself up, as her arms, under her clothes, were covered with scars and wounds.
Trigger warning: Self-harm
The first cuts
Andrine's first meeting with self-harm was at school. She's together with a friend when some older girls show their scars. She had never seen anything like it before and in her diary Andrine writes that this is "extremely stupid!"
At the same time there is something from this happening that sticks.
At fourteen, Andrine starts to cut herself. It happens after what she herself describes as a "heavy summer holiday." Hidden from everybody, this self-harming takes place more and more often, while the cuts get deeper and more serious.
She herself describes self-harm as an "adrenalin kick." A form of mastering that lets her handle evil and destructive thoughts: "It feels like being locked into a room where self-harm is the only emergency exit," Andrine explains to a psychologist.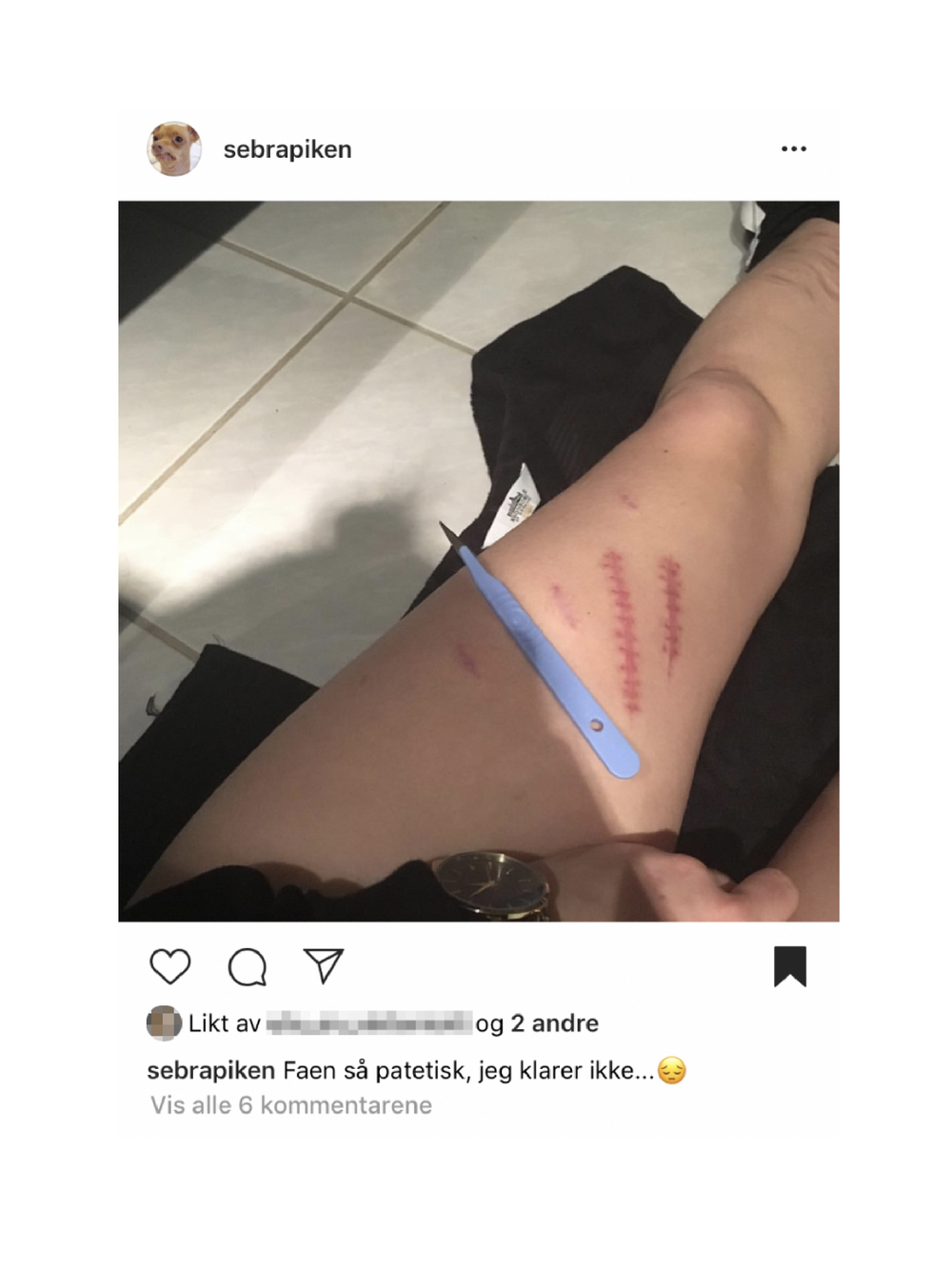 Warning: these images contain graphic content that some viewers may find disturbing
Trigger warning: suicide
The first suicide attempt
In August 2015, Andrine is admitted to hospital after a suicide attempt. The risk of suicide is not overwhelming, according to the doctors, but at the same time they warn of the danger of a repeat and the fact that the girl can "take her own life as an accident."
After the suicide attempt, Andrine explains that she's suffered of anxiety for many years. She never feels good enough and is convinced that nobody likes her. She also has great problems with controlling her feelings, especially when life goes against her.
Things that most people see as trivial can release endless sadness and crises. Self-harm and suicidal thoughts "can be seen in this context," the report from the hospital says.
There is also another reason why she hurts herself. Andrine reveals this several months later.
The dangerous voice
Andrine is hearing a voice in her head. It suddenly appears and orders her to take her own life.
Together with "The Voice" there is also a small girl. Andrine calls her "Dagny." A drawing in her diary shows a character that looks like she's been taken from a horror movie. The eyes are pierced out and the mouth sewn together with thick stiches. "The Voice" has done this, and if Andrine doesn't do as "The Voice" commands, the same thing will happen to her.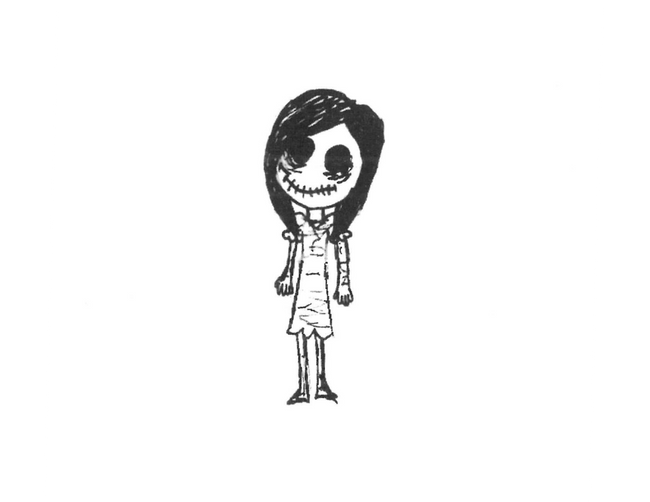 In order to ignore "The Voice," Andrine has to suffer pain, she explains, either by cutting herself or swallowing dangerous objects.
Andrine is now being treated at the hospital, first in conversation therapy and later by medication. After a while she is seen as being well enough to be discharged, but Andrine does not want to go home.
The relationship with the family is very difficult, she feels. Andrine is now so sick that she requires more frequent follow ups than her mother can give her. Contact with her father was broken when she was ten years old, and Andrine feels she's only a burden that nobody cares about.
She's kept in hospital. And while her contact with the real world is shrinking, her life on Instagram takes increasingly more time and space.
The hidden account
She calls herself "Sebrapiken." Probably from a book with the same name about a girl who also injures herself.
Warning: these images contain graphic content that some viewers may find disturbing
Just like Andrine, many of the girls on the hidden network seem to be completely normal girls from all over the country. Often very young, some as young as fourteen years old. They often don't know each other in real life, only online.
The girls use their own "tribe language" with codes for diagnoses, what type of self-harm they're into, how many times they have been admitted to a hospital or tried to take their own life.
In this, Andrine at last finds a place where she doesn't feel alone. Here she gets support and understanding from others who suffer the same and who understand her situation.
But most of all, she has found a fellowship where sick girls are exchanging negative thoughts and experiences. In a world without adults, they share tips and advice on self-harm and suicide.
Andrine quickly becomes a person that most people know of in this secret environment.
Being transferred to child care
During the next months, Andrine is more or less continuously admitted to several different institutions.
In several places it seems like things are going well, at least in the beginning. The girl seems positive and happy, she follows her treatment and often shows signs of improvement.
Then come the downturns, abruptly and worse. Self-harming gets more frequent and takes new forms. Andrine starts to swallow harmful objects and the cuts find new spots on her body.
In February 2016, Andrine's condition has deteriorated so seriously that she's transferred to child protection, and in May she moves into a private institution called "Jentespranget."
Here she remains during the last months of her young life.
A new beginning
Jentespranget is situated at Stord, between Haugesund and Bergen. It is a department for seriously-ill girls. Some of whom are often under around- the-clock supervision.
Andrine gets her own room with two staff members looking after just her.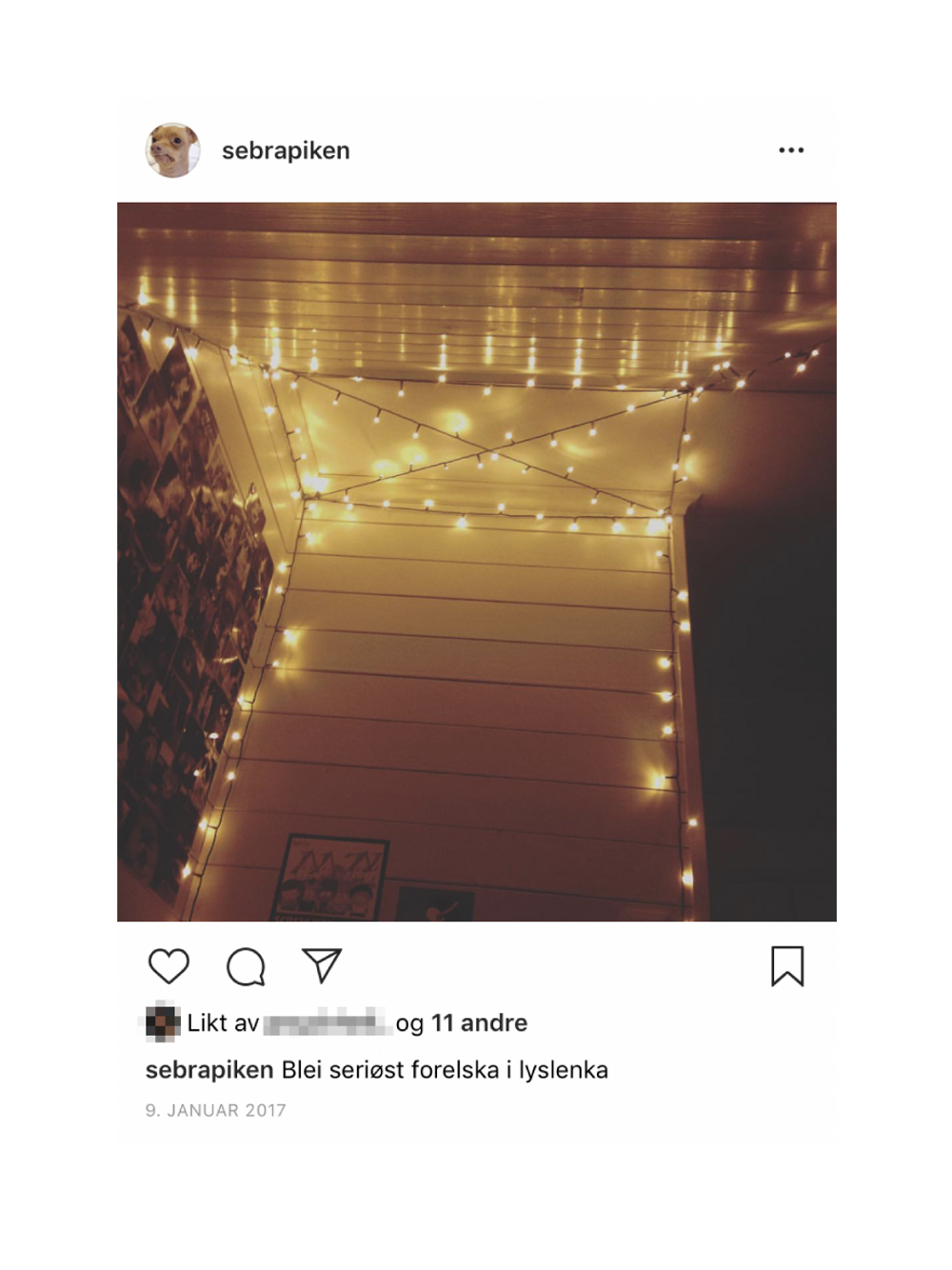 She's given a new treatment plan and sees a psychologist regularly. Gradually, she begins to think of her future and attends school when she is capable. To keep her thoughts away from evil, the days are filled with activities. Andrine is to be taught to take responsibility for her own life and has to wash her clothes and keep the house in order.
She starts working out, and as a part of her treatment Andrine begins horse therapy.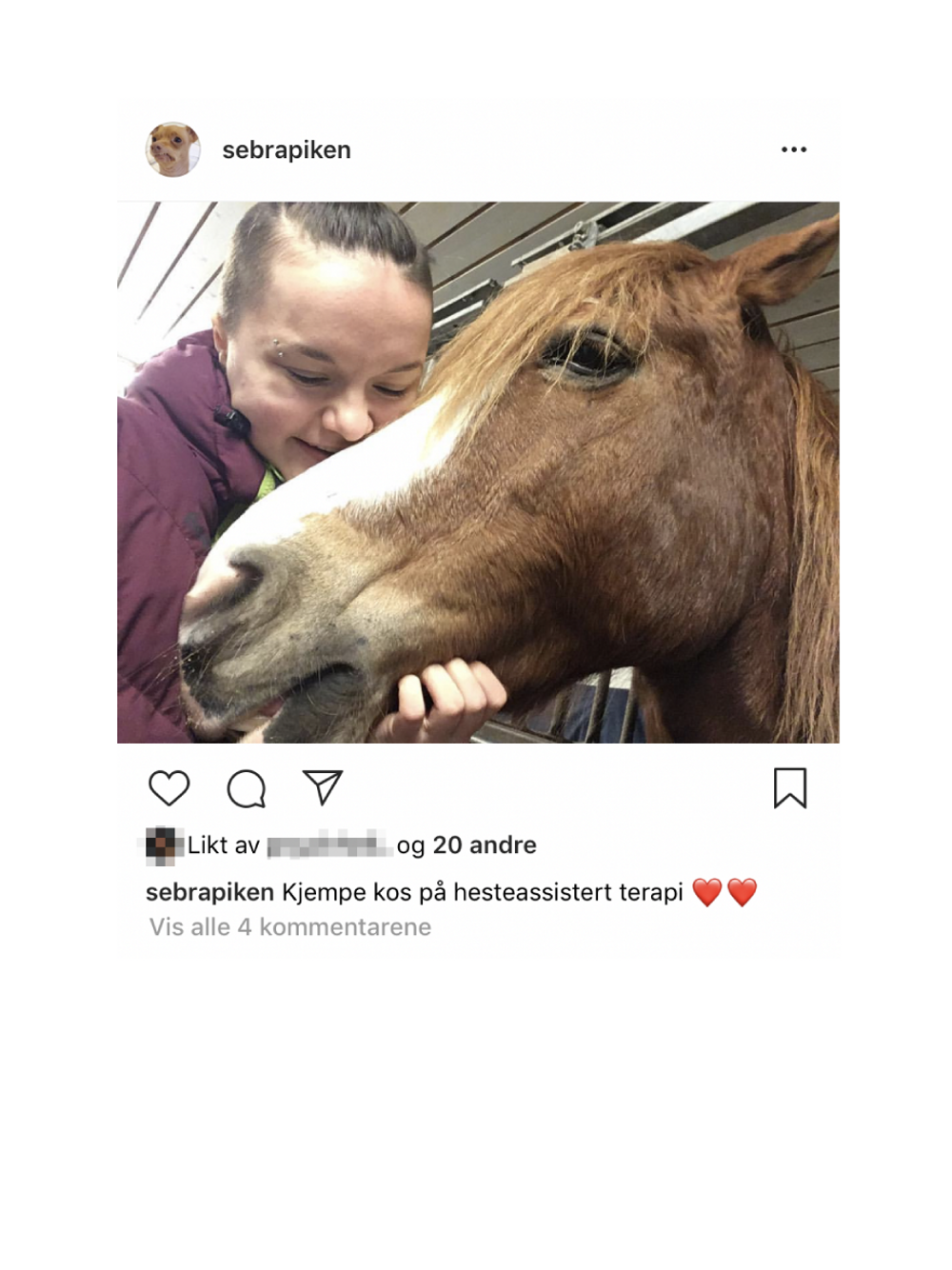 But during the summer she suddenly falls into extended, heavy depressive periods. Her thoughts on self-harm and suicide increase, especially in the evenings, according to staff.
Andrine has access to both her phone and the internet, also at night. In two months she posts over 1,500 entries. She posts private messages several times a day and much of those are images of self-harm and thoughts on taking her own life.
At Jentespranget they notice that she's very active on the Internet. In a risk assessment the employees write:
"Andrine has on several occasions informed that she wishes to take her own life. She has also written suicidal thoughts on social media, on a closed Instagram profile."
During her stay Andrine attends several meetings on how damaging this environment can be for her, but she takes no notice.
Warning: these images contain graphic content that some viewers may find disturbing
The staff has no right to take the mobile away from her, but when they suggest banning it for a period, Andrine uses self-harm as blackmail to keep it.
As Andrine is voluntarily admitted to the institution, the staff has only limited authority to use force against her.
You snitch, you die
As Sebrapiken, Andrine is "safe." Many users also mark their profiles like this. In this group "safe" means to follow an unwritten rule that nothing from within the network is to be shown or told to outsiders. There's a rule of silence, and it's simple: "You snitch, you die!" If you don't keep quiet, you can be blocked or closed down by others. Some say this rule is valid even when there's a question of life-or-death for the girls.
But Andrine does not want to follow this rule when somebody is trying to take their own life. Once she called an institution in northern Norway to tell their staff that one of the girls living there was about to commit suicide.
Contagious behaviour
In August 2016, Andrine experiences online that a close friend from within the Instagram network kills herself. She takes this very hard and is clearly affected by her death. The two following months she is admitted six times after overdoses and other suicide attempts. During this period she has to get nearly 200 stitches.
And so, she is sent to hospital in Bergen. She has suffered severe internal injuries after swallowing dangerous objects and must be operated upon. After surgery, a new suicide attempt happens at the hospital, and Andrine is only a whisker from death.
Warning: these images contain graphic content that some viewers may find disturbing
Now Jentespranget asks for help. To the child protection agency in Tromsø they write: "We must, to the best of our ability, keep this girl alive," but this is difficult with the framework they now have. For a period they employ extra staff to cover Andrine.
The fear of turning eighteen
Andrine is now only weeks from turning eighteen. After years as a hot potato in the system, in and out of psychiatric institutions, in and out of meetings on who shall take care of her, this is something she fears more than anything: having to take care of herself.
Already two years before Andrine dies, a previous entry in a hospital report says that she is especially vulnerable to major changes.
She needs security and stability, and we see that her self-harm increases as soon as discharge is being approached. She says she does not see many possibilities in the future, her thoughts regularly return to taking her own life.
At the beginning of 2017, Andrine is, despite her situation, given the decision that she is not guaranteed a place at the institution Jentespranget when she turns eighteen. This really frightens Andrine, now that she finally has arrived at a place that she really likes.
Warning: these images contain graphic content that some viewers may find disturbing
Andrine desperately wants a quick decision. She and her mother are attending several meetings with the child protection agency without reaching a final decision. During so-called cooperative meetings about Andrine, nobody can give the girl a clear answer.
The last day
In the morning on the day Andrine dies, the staff perceives her as being very "heavy." Already before breakfast there's a text from Andrine saying she's not feeling good. She feels completely "rock bottom."
The staff is united in keeping a certain distance. Experience shows that the closer they are to her in these situations, the greater the risk of her hurting herself.
Andrine starts the day in the stables, and after having fed the horses she seems better. At dinner she jokes and plays around with the employees, and in the evening they all go to the cinema.
In the middle of the film the staff gets a call from one of the other girls in the house. She says that Andrine has plans to take her own life later that evening and that she has posted this on Instagram.
Since Andrine seems stable and at ease, their joint decision is to bring it up when they get back home.
On the way from the cinema Andrine posts this image.
Warning: these images contain graphic content that some viewers may find disturbing
Back at the house Andrine runs upstairs to her room before anybody gets to talk to her. They can hear her cries and suggests a trip to the doctor, but Andrine refuses. She doesn't want anybody to stop what she has planned.
A while later a text message arrives in which Andrine says thank you for everything. The search for her starts, but on the same evening Andrine's life is over.
"Poor child of mine! Just to think how hurt she must have been and I did not manage to help!" says Andrine's mother Heidi and puts her daughter's mobile phone away.
She wants Andrine's story to be included and help to reveal this hidden network because it is a dangerous arena, she says.
– "This is completely without any filtration. Had Andrine not had this relationship with the Internet, I don't believe it would have ended as catastrophically as it did."
Just a few weeks after Andrine's death, the child care agency formally cancels her place at Jentespranget. Ending date for her stay: the day Andrine would have turned eighteen.
An official report following Andrine's suicide, states that the employees at Jentespranget did everything they could in the situation and that the follow-up of this girl was defendable.
Epilogue
The day after Andrine's eighteenth birthday, Heidi finds an envelope in the letter box at home. It is a thank you letter from the director at Oslo University Hospital.
In the letter it says that Andrine's organs, after she'd been disconnected from the respirator, have given new life.
– "When I came to the part about the children, I just burst into floods of tears. I had really hoped that she would save some children, so it was good to hear," says Heidi and reads the last lines in the letter aloud:
Four adults and two children have been given a new life. I hope this can be a comfort for you and Andrine's sister to think about. I wish you as good a future as possible and feel with you in your sorrow.
---
This story is based on Andrine's profile and own notes, journals from the child and youth psychiatrists involved, the child care agency and other public documents connected to her treatment, plus interviews with Andrine's mother and conversations with those closely involved with the fourteen other girls who have died. Their families have accepted the use of pictures and names of these girls.
Neither Jentespranget nor the child and youth psychiatrist treating Andrine are willing to be interviewed in regards to this matter.
The Children, Youth and Family Agency in Region North and its Area Director Mr Pål Christian Bergstrøm, writes to NRK:
"This is an extremely serious case. For us it is the worst thing that can happen – a child dies when under care of child protection. We feel empathy for the mother and other survivors. The employees working with Andrine are also experiencing great sorrow. It is very difficult to be informed that Andrine felt we did not do enough to help her. This case was, however, extremely involved and complex.
Legislation set for the purpose of securing children's rights can in situations where the children are as ill as Andrine, limit the child care agencies' ability to provide the assistance that children need. This case also highlights the demand aid organisations face when this form of social media is used."
---
­Trigger Warning
Trigger Warning – TW – is a term used within some closed groups on Instagram. It is used to warn against strong pictures, or content, that can release evil thoughts and dangerous actions. Users insert this ex- pression in their biographies to warn others from entering their profiles
For over a year, NRK has followed a network on Instagram where this expression is frequently used. Young girls, mostly teenagers, discuss suicide and self-harm and share images showing how they have injured themselves.
In this period NRK had identified fifteen girls from the network who have taken their own lives. In one case this took place almost as a live stream on Instagram.
This network is not well-known among professional health carers in Norway. There is also very little research performed in this area.
In a series of articles NRK highlights this dark and hidden network.