Charting the course: The International Journalism Week and our Community Event
Published on October, 12 2022
Great things start with a simple word, a word that was repeated countless times last week, in Athens, at the International Journalism Week: A Matter of Trust. A word that is gold, because it speaks of things that are bigger than the will of a single person: a collaboration, a profession, a community.
This word is "we".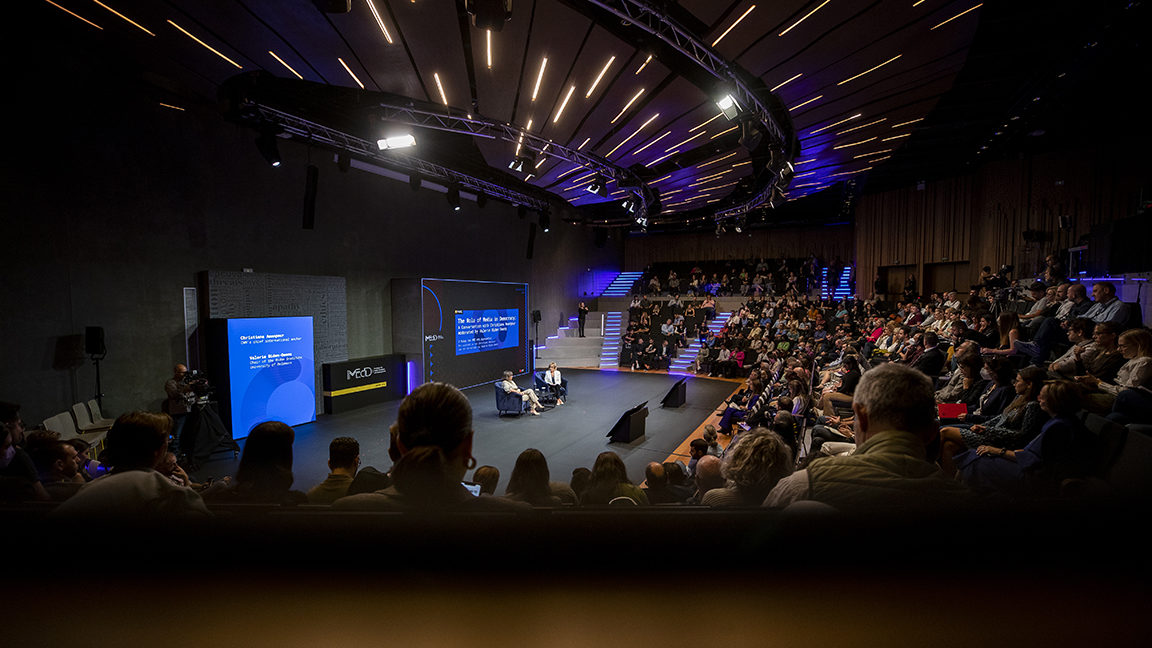 Everything starts with that simple word every time, because one person, alone, can hardly achieve change. We know that behind every great feat there is a support system that helps with many things: asking the right questions, questioning assumptions, providing support, making it all doable or, even better, fun to do.
This is what has been the greatest success of the International Journalism Week: A Matter of Trust, organised by iMEdD in Athens from 5 to 9 October. Providing a "we" to journalists from Greece and far beyond. Bringing them together and giving them a space to discuss, see faces they already knew and meet new ones, ask questions, seek answers and above all inspire each other.
That pronoun became the Pole Star for a week of intense conversations, designed to chart the course for a journey that, every journalist soon finds out, can be dangerous and subject to the whims of the weather – of the divinities of political power, technology, and the greatest god of all, the public.
And when you travel in the open sea like Odysseus, the "we," your crew, is all that matters.
We were there, with the Prize Community
In Athens, on Day 5 of the International Journalism Week, we held our first Community Event. We were given the great chance to involve the journalists that are part of our community in the "we" that iMEdD created.
In our design, this was the perfect opportunity to bring our members, board, Laureates,  PrepCom, together for a day of workshops and discussions on journalism.
A great place to see known faces again, but above all to let the community grow, introducing our family to the iMEdD's network, so they could exchange ideas, get inspired, and maybe be excited about the possibility of new projects.
This is the way
During every journey, there must be a moment of reflection, or reassessment of what was done. We talk about what didn't work – that we will abandon – and what brought us where we are – that we will keep, and bet on.
During this International Journalism Week, since Day 1, we attended talks, roundtables, workshops, that showed us exactly this. That allowed us to form an idea of what can bring the journalistic profession to its next stage and deliver it to always-new audiences. The challenges are many, but the energy was far stronger than the dismay for the setbacks, the threats, and the violence this profession is subject to.
It is, for journalism more than for other professions, a matter of bridging tradition and innovation, embracing change without losing sight of the miles already behind us.
A good example of this – just one, but there were many others – are two women, Tina Xu and Anneleen Ophoff: the first is a multimedia journalist, and the second the editor-in-chief of Are We Europe, a full-paper magazine. To Tina, "the future of journalism is immersive. Journalism is more and more expected to have an authentic voice." Anneleen explained that "76% of European youth wish they could spend less time on screen, and we have an answer for that: print."
They were there, on the same stage, looking at journalism in a different way but, in fact, charting the same journey.
This is the way, and "we" travel together, they would say.
---
We would like to thank iMEdD for their support to the European Press Prize, and for having included us in their International Journalism Week. You can find many of the sessions of the conference at this link.

A special thank you goes also to The Guardian Foundation, Arena for Journalism – and the Cities for Rent project – to Are We Europe, Hostwriter and Unbias The News, for the workshops they held during our Community Event.