European Journalism in Times of Pandemic
Published on March, 20 2020
By Margarida Teixeira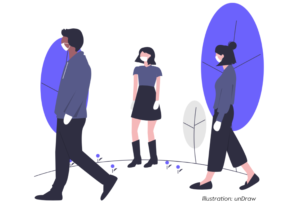 The world is experiencing an unprecedented crisis. The COVID-19 pandemic, with Europe at its epicenter, is having an impact on every aspect of the daily lives of Europeans: from coping with social isolation and travel restrictions to adapting to remote working conditions, there is likely not a single person in Europe who has not been personally impacted by COVID-19.
As of March 20, the virus has claimed the lives of more than 8,000 people, most from China and Italy. Many European countries, from the Iberian Peninsula to Central Europe and the Balkans, are enforcing state of emergency. As the number of infected persons rises, experts predict the spread of the virus might only decelerate by May. Universities, schools, companies, factories and football leagues are ceasing operations across Europe and many fear a violent economic recession will ensue.
The 21st century undergoes its most critical moment so far: in a highly globalized and interconnected world, misinformation spreads like wildfire across social media. Today more than ever, reliable journalistic sources are crucial to understanding what exactly is going on. On the other hand, COVID-19 is also deeply impacting the work of journalists, and there is still uncertainty regarding the real extent of this disruption. 
A freelance journalist in Portugal who mostly covers events on the ground for a national daily newspaper said she is unable to perform her work. 
"The outings are increasingly limited, not because I am forced to stay home, but because the city is working half-heartedly, so I cannot even explore potential reporting topics if there are no people," she said.
She predicts the COVID-19 pandemic will also hit newspapers financially. Sales will most likely be affected not only due to people being unable to buy newspapers, but also because most media outlets are unable to cover other topics and diversify content. 
"A newspaper cannot live only on these [COVID-19] contents," she said.
She is also aware of how freelancing can expose journalists to the virus and the delicate position they are in. 
"If I am infected at work, I do not have health insurance. If I have to stop working, I do not get paid. So, I will continue working and try to take as many precautions as possible". 
As for Katy Fallon, a journalist in Greece who mostly covers issues related to health and refugees, the risk of infecting vulnerable populations living without basic sanitation has caused her to shift to communicating through WhatsApp instead of face-to-face. Avoiding in-person communication has its consequences, but for now staying in isolation and keeping sources safe are her priorities.
"I am in a low-risk group, in my twenties, but there is a real possibility I could give it to someone," Fallon said. "We have a duty as journalists to report, but we also have a duty of care to those we are reporting on." 
The expected economic and financial impact of COVID-19 is also a concern, particularly for freelance journalists and those with precarious contracts. 
"This is going to impact a lot of our work; freelancing is always more tenuous," Fallon said. "Every downturn of the economy affects us first." 
As the following months of work remain unpredictable, Fallon hopes media outlets employing freelancers on casual contracts are able to pay on time.
Both journalists, like many others in Europe, are unsure about how the general public can support media structures at this time. Fallon, still uncertain of how to aid freelance journalists, urged for the provision of "support structures where we can all still do the best job we can reporting in this really uncertain climate."
The COVID-19 pandemic demonstrates the importance of reliable and rigorous information. Many organizations are supporting journalists covering COVID-19, such as the Global Investigative Journalism Network, mainly by offering resources and guidelines, though journalists covering other topics may have limited options.