Isobel Cockerell on What is Next for the Uyghur Minority
Published on July, 8 2020
The reporting of human rights abuses against minorities struggles for audiences among today's rolling news coverage. Here's how reporter and European Press Prize winner Isobel Cockerell plans to ensure that the oppression of China's Uyghurs doesn't get left behind.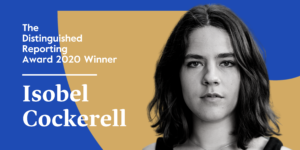 by Claire Davenport
Isobel Cockerell had plenty of early journalism training. Both her parents are journalists. As a result she grew up on a diet of newspapers and BBC News at Ten.
When Isobel's own career in journalism took off, she recognised that her place was not necessarily in the 'turbo' news diet she grew up on, but rather providing deep-dive long-form narrative journalism.
In 2018 Isobel had a fateful meeting with Coda co-founder Natalia Antelava whose interest in long-form granular reporting matched her own. Coda Story, an online crisis reporting platform, grew out of its founders' frustration with reporters chasing the news cycle; parachuting into unfamiliar territories  and leaving them behind with barely a follow-up.
This year Isobel was awarded the European Press Prize for a forensic and highly informative take on the oppression of the Uyghur minority in Xinjiang province, China, where the local administration employ draconian measures such as internment camps, facial recognition technology and more recently mandatory contraception as tools of oppression.
The so-called "vocational training centers" have been dressed up as "boarding schools" intended to wipe out extremism. But a report by Amnesty collating interviews from former detainees found they had suffered inhumane levels of torture and surveillance.
"Xinjiang is the most highly surveilled region in the world. It is like nothing else on earth," Cockerell said in an interview on how she plans to follow up on the Uyghur story.
"Stay on the story" is in fact the Coda motto, and like all stories of oppression there are endless angles to pursue.
In her research Isobel also discovered that some of the tech vendors helping China spy on the Uyghurs are also selling their products at trade fairs in global commercial centres such as London.
"Companies who operate in Xinjiang routinely sell huge contracts to democracies," she said. "One such company is watching Londoners' every move."
Isobel only cautiously welcomes the move from the U.S. Congress to sanction Chinese officials involved in Uyghur oppression but warns that we are yet to see if it has a tangible impact on the situation on the ground.
In Turkey she caught up with many Uyghur women who have fled there and now live in a state of limbo, unable to see their families again, potentially forever. She feels their stories deserve to be told to inform both the political and social narrative.
"There is this choice all of these women have to face which is what do I do about this life I have left behind," Cockerell said. "It feels impossible to move on from that life, and there is an ongoing sense of trauma and paralysis for many of the women."
During her reporting, Isobel also discovered that three-quarters of the Uyghurs who managed to flee to Turkey are women.
"Men have been more heavily targeted in the detention system and for diverse reasons it was marginally easier for women to get out of Xinjiang before 2017, when it became almost impossible for any Uyghur to leave the region."
Today the authorities are cracking down even harder and those who have fled did so during a tight window before state security began confiscating passports.
Currently Isobel is preparing a follow-up to her prize-winning piece focussing on the activities inside the internment camps.
Coda Story is also one of few media who attempt to unpack fake news. A dedicated team of reporters monitor fake news narratives doing the rounds on social media.
In its exploration of fake news, Coda journalists like Isobel have also uncovered a striking and underwhelming dichotomy.
"The most clumsy and crude disinformation campaigns have the highest impact and as soon as they are out the damage is done," she said. "Unfortunately, fact-checking and debunking doesn't undo that harm."
Coda's disinformation newsletter the Infodemic can be subscribed to here (https://www.codastory.com/coda-newsletters/).