Summer 2020 Funds for Journalists
Published on July, 20 2020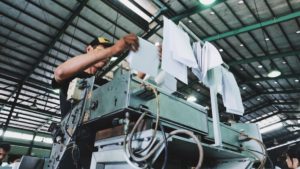 Journalism isn't easy at the best of times, let alone with the onset of the pandemic. Freelance journalists are hardest hit without the backing of furlough schemes or the assurance that income streams will stabilise soon. For those wishing to get back to work or to report on the pandemic's impact specifically, we have compiled a list of eligible funding sources. Photo: Geraldine Lewa
by Claire Davenport
New applicants to the Pulitzer Center's International Reporting Grant are advised that applications surrounding the pandemic will be prioritised at this point in time. Funding has spanned from $5,000 to $10,000 and is paid in two installments, the latter upon submission. Importantly applicants must have the verifiable support of a reputable media outlet in order to apply.
The Fund for Investigative Journalism has set a deadline for Sep. 14, 2020 for its next batch of applications. It accepts applications three to four times a year and, like the Pulitzer Center, a letter of approval from a news outlet is also expected to ensure the piece of work has potential to run, in print or on air. Funding can also reach up to USD $10,000.
The International Women's Media Foundation is extending its funding to journalists of all genders who find themselves in need of emergency support such as medical or legal aid, replacing destroyed equipment among other lifelines. The fund will also cover those struggling to report in the "highly charged political unrest and polarization in the U.S., including but not limited to elections, civil movements and other challenging environments." This particular fund is called the United States Journalism Emergency Fund and is eligible to those residing stateside.
Separately funding exclusively for female journalists continues under the rolling IWMF Emergency Fund, but another fund set up for those who have lost work during the Covid-19 pandemic appears to have been exhausted for the time being.
"If you are submitting an application to the Journalism Relief Fund, please know that we have exhausted the available funding and are unable to meet new requests at this time."
If you would like some reassurance that your query will be answered in a reasonable amount of time, then the National Geographic's Covid-19 Emergency Fund offers a hopeful two-week turnover.
The funding is aimed at local journalists trying to reach local communities on the Covid-19 pandemic and prioritises places with an underserved populace. The application expresses interest in "local or even hyper-local distribution models," and funding can run from USD $1,000 to $8,000. The criteria welcomes a slew of storytellers from cartographers to filmmakers.
"Narratives around the Pandemic necessarily include facts and numbers, but ultimately, must also go deeper—telling the stories of inequities that COVID-19 has brought to light."
Any reporters who feel unsafe as a result of their reporting can approach Reporters Respond, a funding tool set up by Free Press Unlimited for an outlet or journalist suffering from "harassment, intimidation or violence." The criteria includes online harassment and the funding can cover a swathe of needs from medical to psychological assistance.
If life's administration has reached a tipping point such as falling behind on payments for housing, medical assistance or your children's needs the Journalists' Charity located in Surrey provides near immediate support to eligible candidates.
The Charity's webpage also links to a selection of other funding resources that prioritise the promotion of diversity for instance or journalists who are writing about violence against women.
The Society of Authors also provides emergency funding up to £2,000 to those hardest hit by the pandemic including writers, illustrators, literary translators, scriptwriters, poets, journalists. Applicants must reside in the UK and must show that a substantial amount of their annual income relates to their writing and/or illustration activities.
The Society of Environmental Journalists is awarding grants for stories on "climate or conservation in North America, water quality and availability in the United States Mississippi River Basin, including agriculture, food, water and sustainability, oceans and coasts globally, including fisheries, sea-level rise and coastal restoration."
There is no deadline and funding can be up to $,2500 per individual or $5,000 for "team or news outlet projects."
And while the NUJ also provides discretionary funding, it appears that funding is not granted until all other potential pots have been exhausted and is ineligible to non-card carrying members or recipients of state benefit.
The IJ4EU (Investigative Journalism for Europe) fund launched a new call for applications to its Investigation Support Scheme on August 10, with around €400,000 available to assist cross-border journalistic projects in the European Union and EU candidate countries.
Journalismfund.eu is another valuable organisation which has for over 20 years linked journalists to different grants. On their website you can find a list of grants as well as projects they have supported in the past. Visit journalismfund.eu to find out more about how they connect donors and journalists in order to facilitate cross-border investigative journalism.