European Press Prize 2021 Shortlist
Published on May, 3 2021
The Europ
ean Press Prize announces the shortlist for 2021.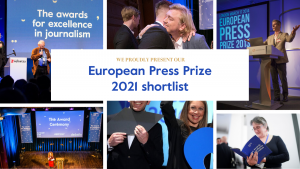 The 9th edition of the European Press Prize
This year's edition of the European Press Prize saw a record number of participants, with more than 1,000 submissions from almost all 47 countries of the Council of Europe and beyond. Journalists from 18 different countries – From Spain to Belarus, from Denmark to Greece – have been selected for this year's shortlist  by the European Press Prize preparatory committee.
This year's finalists tackle crucial contemporary issues of European, such as the coronavirus pandemic and its effects; Black Lives Matter Movement, migration and human trafficking; women's rights in sport; integration in a multi-racial union of countries, and much more. All the pieces that the European Press Prize received are translated into English to make them available to the largest possible audience.
"We believe journalism is one of the great connectors, in a Europe that learns and grows thanks to the stories told by its reporters," Thomas van Neerbos, Director of the Prize, declared.
The complete shortlist
This is the complete European Press Prize 2021 shortlist:
The Distinguished Reporting Award
"Love in the time of plague" by Janusz Schwertner (Poland), published by Onet (Poland)
"How Orbán played Germany, Europe's great power" by Szabolcs Panyi (Hungary), published by Direkt36, 444.hu, Krautreporter (Hungary, Germany)
"The Logbook of Moria" by Stavros Malichudis and Iliana Papangeli (Greece), published by Solomon, Investigate Europe, Reporters United, Der Tagesspiegel, VICE Germany, Mediapart, Público, openDemocracy, Klassekampen, WP Magazyn, infoLibre (Greece, Germany, France, Portugal, UK, Norway, Spain, European) 
"Among the Taliban" by Wolfgang Bauer (Germany), published by ZEIT Magazin (Germany)
"Escape: the woman who brought her trafficker to justice" by Ottavia Spaggiari (Italy), published by The Guardian (UK)
The Innovation Award
"Sisters of Europe" by the entire Sisters of Europe team (Europe), published by sistersofeurope.eu (Europe)
"Rojava Diary" by Lola García-Ajofrín (Spain), Massoud Hammid (France), Jakub Górnicki (Poland), Marcin Suder (Poland), Piotr Kliks (Poland), Tina Xu (China), published by Outriders (Poland/international)
"Infertility" by Lara Bonilla and Ricard Marfà (Spain), published by Diari ARA (Catalonia/Spain)
"Money to Burn" by Piret Reiljan (Estonia), Silvia Nortes (Spain), Catherine Joie (Belgium), Paul Toetzke (Germany), Hazel Sheffield (UK), Ties Gijzel (The Netherlands), Sophie Blok (The Netherlands), published by Argos (HUMAN / VPRO), Äripäev, ERR, De Groene Amsterdammer, E&T, Investico, Público, Die ZEIT Online, The Guardian, Latvijas Radio 1, 5W (The Netherlands, Estonia, UK, Spain, Germany, Latvia)
"Maldita.es's Whatsapp Chatbot to thrive a fact-checking operation on disinformation" by Maldita.es (Spain), published by Maldita.es (Spain)
The Investigative Reporting Award
"The Dark Side of Sport" by Mathieu Martiniere and Daphné Gastaldi (France), published by Disclose, We Report, Mediapart, L'Equipe, France 2 and other French media (France)
"The climate disgrace of Visp" by Christoph Lenz (Switzerland), published by Das Magazin, Tages-Anzeiger,, Tamedia-Newsgroup (Switzerland, Germany)
"Brutalised Minsk: how Belarusian police beat protesters" by Yegor Skovoroda, Anastasiya Boika, Maxim Litavrin, David Frenkel, Yegor Skovoroda, Maria Tolstova, Nikita Shulaev, Dmitrii Treshchanin (Russia, Belarus), published by Mediazona, OpenDemocracy, Heinrich Böll Foundation, bialorus2020studium.pl (Russia, Germany, Poland, Europe)
"Kirill and Katya: Love, offshores, and administrative resources. How marrying Putin's daughter gave Kirill Shamalov a world of opportunity" by Roman Anin, Alesya Marohovskaya, Irina Dolinina, Dmitry Velikovsky, Roman Shleynov, Sonya Savina, Olesya Shmagun, Denis Dmitriev (Russia), published by iStories, OCCRP (Russia, International)
"Vote selling network exposed by CIN reporters" by Mubarek Asani and Nino Bilajac (Bosnia and Herzegovina), published by CIN and various Bosnian media (Bosnia and Herzegovina)
The Opinion Award
"When Trianon hurts differently" by Iván Zsolt Nagy (Hungary), published by HVG.hu (Hungary)
"'Merhaba, I'm here to give up my Turkish nationality'" by Rasit Elibol (The Netherlands), published by De Groene Amsterdammer (The Netherlands)
"Death of the office" by Catherine Nixey (UK), published by The Economist's 1843 Magazine (UK)
"Father" by Christian Bennike (Denmark), published by Dagbladet Information (Denmark)
"Black Lives Matter, Czech style? This country's Roma get neither respect nor justice" by Apolena Rychlíková (Czech Republic), published by A2larm (Czech Republic)
About the European Press Prize
The European Press Prize celebrates the highest achievements in European journalism.The prize is made possible by a number of European media foundations who strive to encourage quality journalism in Europe: Guardian Foundation, Thomson Reuters Foundation, Politiken Foundation, Foundation Veronica, Jyllands-Posten Foundation,  Democracy and Media Foundation, The Irish Times Trust Limited, Media Development Investment Fund, Agora Foundation and Luminate.
The European Press Prize is awarded on a yearly basis in 4 categories: Distinguished Reporting, Innovation, Opinion and Investigative Reporting. The judges award a Special Award for excellent journalism to one striking entry which defies categories and disciplines. Each award is worth €10,000.
Laureates
European Press Prize winners and nominees from previous years include among many others Beata Balogová (SME), Isobel Cockerell (Coda Story) and the Balkan Investigative Reporting Network in Bosnia and Herzegovina.
Preparatory committee
This year's preparatory committee consists of Denis Staunton (The Irish Times), Wafaa Albadry (Deutsche Welle), Natalia Antelava (Coda Story), Şebnem Arsu (…), Beata Balogová (SME), Heikelina Verrijn Stuart (Democracy and Media Foundation), Denis Džidić (BIRN BiH. Maria Exner (ZEITmagazin), Konstanty Gebert (MDIF), Belinda Goldsmith (Thomson Reuters Foundation), Sérgio B. Gomes (P2), Anna Husarska (International Rescue Committee), Winny de Jong (NOS), Oleg Khomenok (GIJN), Cristian Lupsa (DoR), Natalie Nougayrède (The Guardian), Ida Nyegård Espersen(Berlingske), Jacopo Ottaviani (CDO), Lucila Rodríguez-Alarcón (porCausa Foundation), Dimitris Theo­doro­poulos (Onassis Foundation) and Bartosz Wieliński (Gazeta Wyborcza).
All shortlisted articles are published in English on the European Press Prize website. To receive the stories in your inbox, sign up for the European Press Prize newsletter here.
Contact [email protected] for republishing articles or more information from either bureau or laureates.