Cartoonist Interview: Emanuele del Rosso
Published on February, 10 2020
Italian cartoonist Emanuele del Rosso spoke to the European Press Prize about his journey as a cartoonist, press freedom and the ups and downs of making a career in the digital age. Del Rosso is also a member of the European Cartoon Award's preparatory committee, which will award its winner on May 28.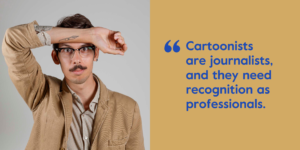 How did you become a cartoonist?
It was a natural transition from journalism into illustration. It just happened when I was doing my internship with RW Media, an NGO. I had problems with English, and because my English wasn't good enough back then, it was a good way to do some journalism and tell a story without having to actually write it. So I started translating the International Criminal Court trial set into long stories with illustrations, which was really liked. This was in 2015.
During my masters, there was a course from a journalist who was collaborating with RW Media and had this international justice website. She asked us to match an article with an illustration, so when she saw that I could do something decent, she told me, "hold it dear, because this is something that can be useful for you in the future." And then it was super fun.
Why are political cartoons important?
For me, the goal of cartoons is social change. You should inspire people to think about something and give them an angle they can explore. Or spark curiosity and push them to actually say, "oh, I didn't know about this, maybe I'll read something about it."
In the last few years there has been a debate over cartoons being deemed offensive and editors becoming much more careful in what they publish. Where do you stand?
I think it tells something about cartoons and this cross-cultural character they have. It says something about the power of satire, in general. I have had contact with this Palestinian-Norwegian guy who was put in jail because of his cartoons. Of course it just gives a whole different perspective like, hey, I am doing some satire and in the Western world it's implied that you can do whatever you want and say what you think; you just imply that people shouldn't get offended because that's 'democracy.' After the Charlie Hebdo attack in 2015 there was a lot of talk about political cartoons and a lot of space to do that. In the end, Charlie Hebdo was pushing it, but I think they have the right to do so. 
As an European Cartoon Award preparatory committee member, why do you think it is important to award cartoonists?
Cartoonists are journalists, and they need recognition as professionals. What happens – less in the Netherlands and much more in Italy – is that they use my colleagues' cartoons on TV prime time in news items without asking them. This is really detrimental to the profession. The moment you don't get paid for something, you are not a professional. You are just a person who does illustrations. Having a separate contest inside the umbrella of the Press Prize is important because we need to really give recognition to the cartoonists, and hopefully then it can be something that brings secure employment to them.
In Italy in the 1980s cartoonists were published in newspapers, but the minute the Internet came – especially Twitter – people started to share a cartoon and treat it as a news item, instead of actually asking for the cartoon. Illustrations started hundreds, even thousands of years ago, and we need to preserve them. It is amazing that you can have open source and the web, but it makes it difficult to actually have a profession.