European Press Prize 2020. Click, scroll, celebrate.
Published on June, 10 2020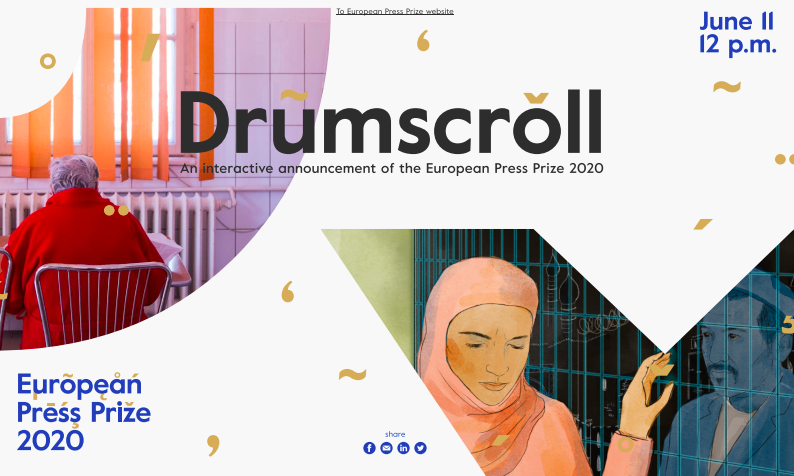 2020 saw us confronting a challenge many organisations had to face: because of the coronavirus pandemic, gatherings and events have been canceled, to guarantee the security of people. The European Press Prize 2020 award ceremony, scheduled for June 11, was affected by these safety measures.
So how do you celebrate an event that normally takes place in a different European city every year, bringing together journalists from everywhere in the world, during this emergency?
We decided to turn this problem into an opportunity. We brought quality journalism to everyone who wants it.
Journalism is for everyone, everywhere
In our mission to support excellent journalism, we aim to bring journalists together, providing them with a network thanks to which they will grow stronger. Indeed, a stronger journalism will provide a better service to the public – which is, in the end, the true mission of every journalist.
We had already been doing this since the beginning, translating to English all the journalism items that reached the final stage of the Prize to make them available to a wider audience.
But moving our event to an online platform gave us the opportunity to extend our reach even further, delivering our – and primarily our laureates' – content to every device that will visit europeanpressprize.com.
That's how Drumscroll was created.
Drumscroll, the European Press Prize 2020 platform
At 12 pm on June 11, we will announce the winners of the different awards of the European Press Prize 2020, and our website will be completely transformed.
It will become Drumscroll, an interactive space, an immersive environment created to let users "experience journalism" in its wholeness. 
Our audience will be able to join our jury in the journey from hundreds of submissions to the five winners of our awards: Investigative Reporting, Distinguished Reporting, Opinion, Innovation, and Special Award.
They will have access to videos, pictures, and interviews related to the shortlisted articles and, most importantly, to the winning pieces, to better understand journalism and build a stronger connection with the professionals behind each story.
In times of quarantine and social distancing, Drumscroll is an opportunity to gather around one thing that keeps societies together: the stories of the people that live around us.
Join our event on June 11. Click, scroll, and celebrate quality journalism with us.