Our Community Platform: a space to collaborate, network and share knowledge
Published on February, 1 2023
We are launching a new tool to make our Community grow stronger, in collaboration with our member iMEdD. It is called Community Platform, and it will allow the Press Prize family to collaborate, network and share knowledge.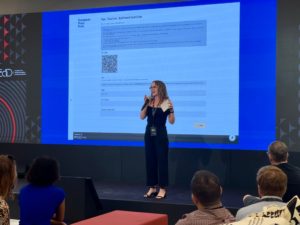 During our Community Event at iMEdD's International Journalism Week, last October, we announced a big novelty: soon we would have made available a safe digital space for the Prize Community. A space designed specifically for our Laureates, PrepCom, Judges and Members, providing opportunities to connect and work together. 
We worked for several months to design and develop this tool along with iMEdD, as we share a common vision, to grow and strengthen a European community of journalists whose excellent work will always be contributing to the public interest.
Now, we are officially launching it. We called it: Community Platform.
Collaboration is the future of European journalism
When in September 2021, during our Ceremony in Berlin, we asked our Laureates what the future of European journalism is, we kept hearing the same answer: collaboration.

In the same year, in a survey conducted for internal use, we asked journalists who submitted their work why they applied for the Prize and what the Prize can do to help journalism. The answers? "To feel like I am part of a bigger picture," "Networking with other European journalists," "Sharing of information about outlets and published articles to network."
Collaboration, networking and sharing are the answers to our "what" and "how," at the European Press Prize.
And this was proven again in 2022, at our first Community Event, an opportunity to see our Prize family come together and chart the course.
A dedicated space to always be connected
The Community Platform will be an online space where our Community will be able to build itself. Our platform users will have an easier way to safely connect and get each other's contacts, to then talk about new collaborations, projects, investigations, to ask questions and share their ideas.
Every year, 20 projects – 25 this year, with the new Migration Journalism Award – get into our Shortlist, and many projects have numerous journalists behind them. After ten years of existence, this means that way more than 200 Laureates have entered our Community.
We will always have meetings in real life – be it at our Ceremony, our Community Event or wherever else we can – but as our Community will keep growing larger, it is time to give it a Platform to grow even stronger. 
We do this for all future journalists, because the Prize is more than a simple award, and we believe journalists can shape their profession together.
Join the Platform
If you are a Laureate and would like to be invited to our Community Platform, please
reach out to our Contracts & Partner Lead Jennifer at [email protected]