iMEdD's International Journalism Week 2022 and our first Community Event
Published on September, 21 2022
For five days journalists and representatives of international organisations and independent media will come together, in Athens, to share experiences and exchange ideas and knowledge on the matter of trust in journalism. The first European Press Prize Community Event will mark the final day of the event.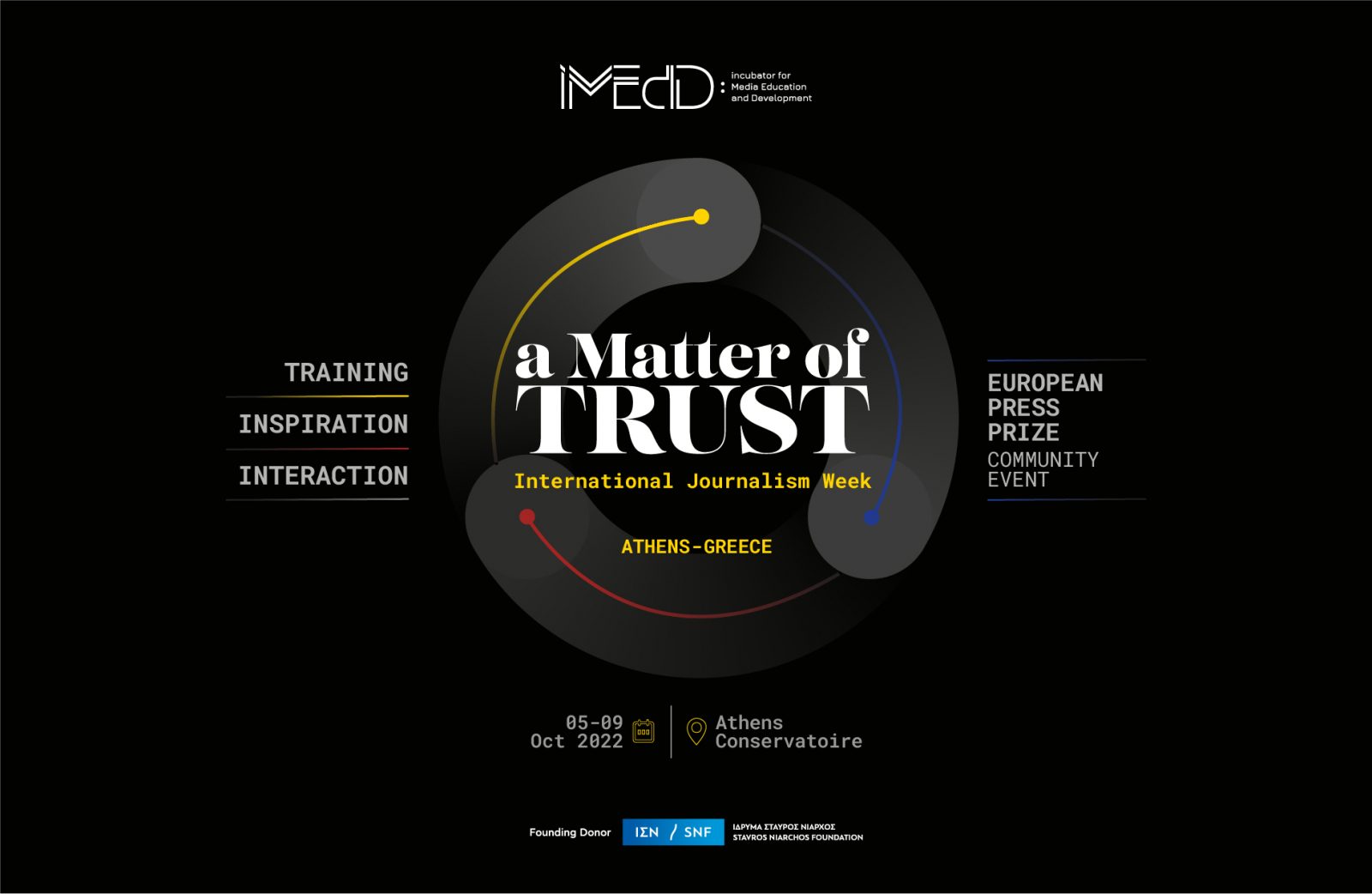 International Journalism Week 2022 by iMEdD: A Matter of Trust
The Incubator for Media Education and Development, iMEdD, returns with a new edition of its annual gathering, from 5 to 9 October 2022 in the heart of Athens, in the iconic building of the Athens Conservatoire.
This time, the focus will be on the issue of trust in journalism, to delve deeper into the underlying causes and consequences, and to come up with possible solutions to regain public trust.
Transparency, independent reporting, journalism in times of war, the value of the regional press and alternative sources of funding: these are just some of the topics to be discussed in an effort to promote a healthy media environment.
The opportunity to get to know representatives from such organisations as Arena for Journalism in Europe, BIRN, EDJNet, Global Investigative Journalism Network (GIJN), Reporters Without Borders (RSF) and La Maison des Journalistes will be given to visitors of the specially designed "Media Village". There, they will be able to interact and attend sessions on the vision and work of these organisations.
The screening of the documentary "The Killing of a Journalist" (curated by the Thessaloniki Film Festival) in the presence of director Matt Sarnecki, senior producer of the OCCRP, will conclude the Journalism Week on Sunday, October 9th.
A key emphasis will be placed on the participation of journalism organisations and independent media from Greece and abroad in the "Media Village", where they will be able to discuss their work and vision by holding special sessions.
The first European Press Prize Community Event: learning and networking
On October 9, the last day of the International Journalism Week, the first-ever European Press Prize Community Event will bring together Prize Laureates, Board, PrepCom, Judges, members and partners, for a day-long event revolving around building and strengthening the Prize Community.
Travelling from all corners of Europe, friends of the Prize will meet to share knowledge, and network to build new and meaningful connections. The goal will be thinking critically and collectively about where they stand, where they want to go, and how they can help each other to get there.
The programme for the day is based on input delivered by Community members, who were asked what challenges they felt were most pressing, what skills they are most interested in honing, and what learning formats excite them the most. Their answers were translated into the following dynamic, interactive programme of four collaborative workshops:
"What are the building blocks for successful cross-collaboration?", hosted by The Guardian Foundation – Kelly Walls and Esmat Jeraj will facilitate a conversation about the building blocks required for successful cross-collaborations: How do you collaborate across borders, disciplines or other perceived divides?
"Building a story ecosystem", hosted by Are We Europe – Anneleen Ophoff, Juli Simond and Eddie Stok will dive into the concept of transmedia and how to build an immersive ecosystem for a story: How do you bring the essence of your story in different formats, for different audiences, with different experiences?
"How to kickstart a data-based cross-border investigation: Learning from Cities for Rent", hosted by Cities for Rent and Arena for Journalism in Europe – Sotiris Sideris and Jose Miguel Calatayud from Cities for Rent, the data-based cross-border investigation that won the Innovation Award 2022, will talk about the lessons learnt in launching such an investigation: How do you start setting up your own data-based cross-border project?
"How to diversify your newsroom: collaboration as a mindset", hosted by Hostwriter and Unbias The News – Tina Lee, Gabriela Ramirez and Zahra Salah Uddin will discuss how, in the journalism field, priority has been given to white, male, and Western voices over others: How does diversity enable collaboration and how can you embrace a more inclusive approach for cross-border journalism?
After this first learning part of the day, which will only be open to members of the Prize Community, there will be a networking moment open to everyone at the International Journalism Week. The agenda of the day can be found here.
Join the International Journalism Week 2022
Participation in the International Journalism Week is free of charge (online registration is required): register here!
This is a Matter of Trust.
Click here for more information about our member and non-profit journalism organisation iMEdD.