The Black Sea / Turkey: The new phase of a multi-year investigative journalism project
Published on December, 13 2022
In every corner of the continent, our Laureates launch projects that enrich the practice of journalism. We present one of them: The Black Sea – Turkey, by Laureates Zeynep Şentek and Craig Shaw.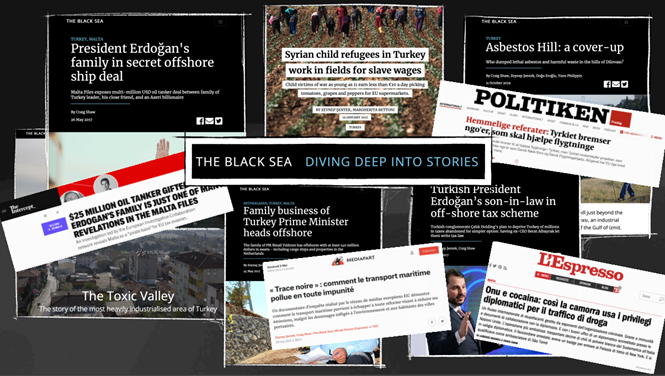 The Black Sea is known for publishing in-depth reporting and investigative features on the Black Sea region. Their new initiative, launched in Amsterdam in September, focuses on Turkey, covering financial, political, and security-related interactions with its neighbours, the EU, and the wider world.
As part of a multi-year plan to strengthen investigative journalism in Turkey and the Black Sea, the team is building a cross-border newsroom of talented reporters, filmmakers, and photographers.
What started as a travel blog project a decade ago later evolved into an independent, investigative platform that connects freelance journalists covering Eastern Europe. The Black Sea's journalism has been nominated for the European Press Prize multiple times.
In 2014, the Black Sea was up for our Innovation Award, and in 2016 and 2018, it made it to the Investigative Reporting Award shortlist with "Mapping the Weapons of Terror" and "The Malta Files," two cross-border investigative journalism projects that were completed in collaboration with the European Investigative Collaborations (EIC) network, which The Black Sea co-founded.
Non-partisan investigative journalism for Turkey
In its ten-year history of cross-border and public-interest journalism, Black Sea journalists investigated corruption in Turkish politics, reported on human rights violations, and exposed environmental abuses. These reports were cited in a US Senate Intelligence report, and in Turkey's Parliament.
"In all the ways bad journalism hurts the country, good journalism helps it. And at the core of the best journalism is the righting of wrongs and exposing injustice, corruption, and lies. This is the creed of quality investigative reporting. Every country deserves it. Turkey is no exception."
Earlier this year, our Laureates, Zeynep Şentek and Craig Shaw, together with our former head of partnerships, Aylin Özalp, started envisioning the future of The Black Sea. In September, they registered as a non-profit organisation in The Netherlands. They are joined by our PrepCom member Şebnem Arsu, a veteran Turkish journalist, and Anna Nemstova, an award-winning journalist with decades of experience, both board members of The Black Sea Foundation.
The newsroom's goal is to demonstrate that exciting, narrative-led investigative journalism has a place and an audience in Turkish society and abroad. By investing in high-impact reporting, cross-border collaborations, and media partnerships, The Black Sea will fulfil the pressing need for non-partisan and challenging journalism in Turkey. It is the first phase of a plan to build toward a regional initiative.
Help the project
The Black Sea is now seeking funding to support its work, set to begin in the new year.
Board chair Zeynep Şentek: "In all the ways bad journalism hurts the country, good journalism helps it. And at the core of the best journalism is the righting of wrongs and exposing injustice, corruption, and lies. This is the creed of quality investigative reporting. Every country deserves it. Turkey is no exception."
---
If you are a funder and want to be part of this exciting new venture or a journalist wishing to collaborate, send an email to The Black Sea team at [email protected]