The European Cartoon Award 2021 nominees
Published on August, 4 2021
The European Cartoon Award announces the nominees for its 2021 edition. 16 works were selected by the Panel of judges and the Laureates jury from a total of 287 submissions, sent by cartoonists from 28 countries. These cartoons tell the story of the past year, ranging from the coronavirus pandemic and the USA presidential election, to Brexit, migrations, and the most recent Belarus attack on journalists.
The name of the cartoonist that won the prestigious 10 thousand euros ECA 2021 prize and of the two runners-up will be released in September.
Click here to see the 16 cartoons.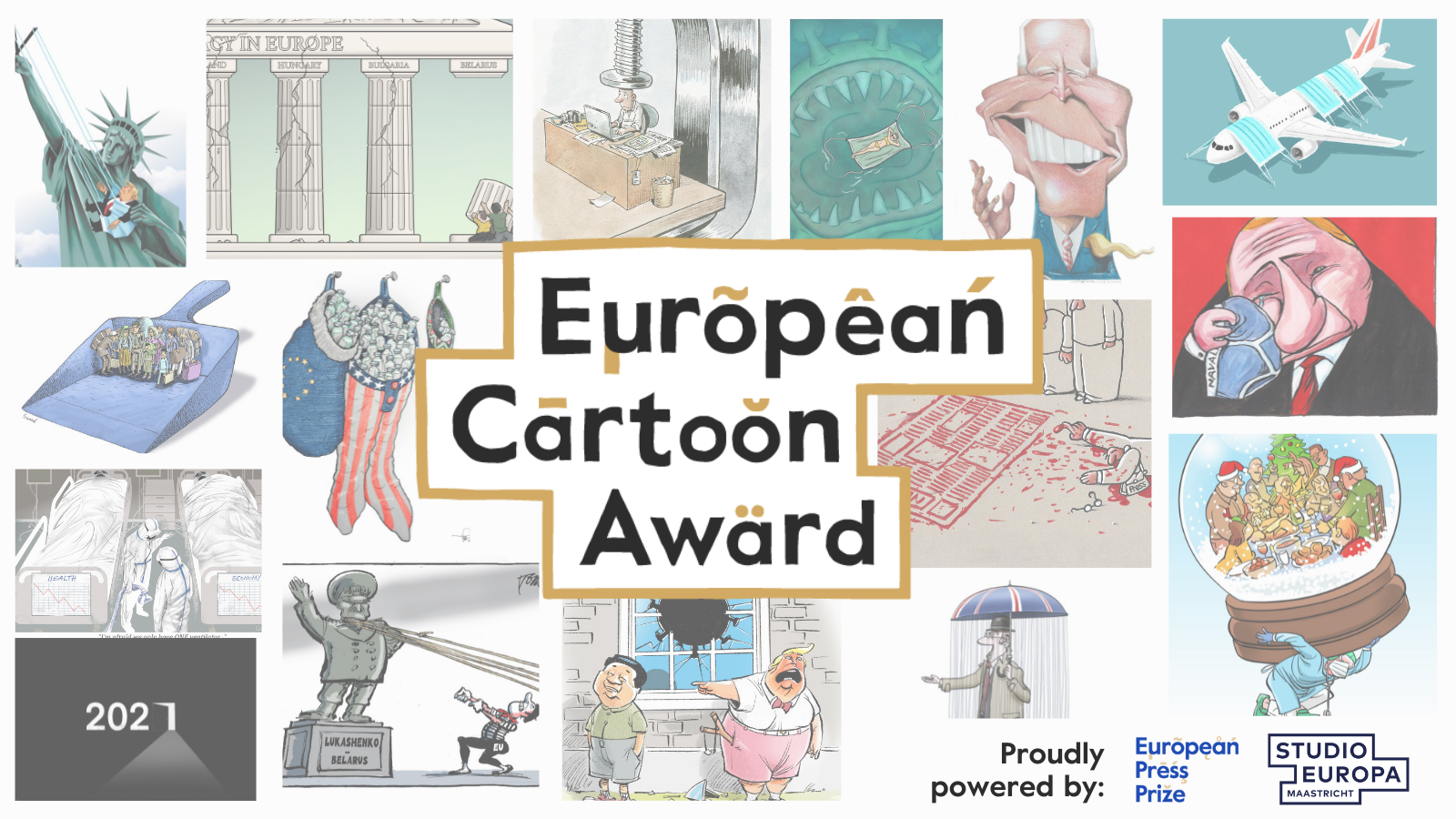 The nominees
From the group of 14 cartoonists who reached the final stage of the ECA, the Panel of judges will identify a winner and two runners-up, chosen for the poignancy and relevancy their work has had on an international level. The nominees are: André Carrilho, Vitor Neves and Vasco Gargalo and Pedro Silva from Portugal; Marco de Angelis from Italy; Niels Bo Bojesen from Denmark; Muse Gumus from Turkey; Osama Hajjaj from Jordan; Tchavdar Nikolov from Bulgaria; Saeed Sadeghi from Iran; Tom Janssen, Hajo de Rejiger and Tjeerd Royaards from the Netherlands; and Konstantinos Tsanakas – DINO, from Greece.
The Jury
The Panel of Judges was composed by: Janet Anderson (Chair), Khalid Albaih, Gian-Paolo Accardo, Paulo Jorge Fernandes, Anne Derenne. The Laureates jury counted five among the previous year's nominees: Costel Patrascan, Mette Dreyer, Claudio Antonio Gomes, Halit Kurtulmuş, Tomás Serrano.
A word from the organizers
Thomas van Neerbos, director of the European Press Prize
"Cartoonists are an 'endangered species': they increasingly face resistance, threats, and sometimes even censorship. Their space is becoming more and more restricted, both in literal 'airtime' and in the themes they address. That also applies to cartoonists here in Europe."
Gonny Willems, director of Studio Europa Maastricht
"In these unprecedented times of polarization, there is more and more a lack of understanding for the perspective of the other and a well-founded critical sound. The power of political cartoons is to offer an opening to the truth of the other with irony, humor and sharpness."
About the European Cartoon Award
The European Cartoon Award was founded by the European Press Prize and Studio Europa Maastricht in 2019 – the year in which the New York Times decided to stop running editorial cartoons altogether. Both organizations aim to award courage and quality in the field of cartooning, encouraging cartoonists to continue their essential task, crucial for a healthy democratic society – both within and outside Europe.
The Librexpression centre has recently joined the ECA as publishing partner.