Laureate Interview: Carlos Spottorno, one year later
Published on June, 8 2020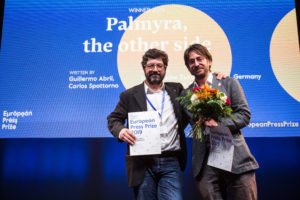 A year after winning the European Press Prize Innovation Award, freelance journalist, Carlos Spottorno, reflects on the alienation of younger readers from the news media and how his recent success with graphic novels presents a unique solution. 
by Claire Davenport
In an interview with the European Press Prize, Carlos said he believed newspapers today were losing younger generations who are getting their information from social media like Instagram in formats that are attractively designed for the mobile age.  
"Right now we cannot afford to communicate only to those who are interested."
National newspapers often cite financial concerns for their waning foreign reportage, but Carlos believes there is a solid business case for mobile-driven reportage using the graphic novel format, because it can boost lucrative advertising revenue.
Data collected by El País Semanal shows that reportage on Syria conceived by Carlos and his colleague Guillermo Abril in the form of a graphic novel attracted an average read of 4 minutes where the overall average of time spent on the El País website was 8 seconds.
Guillermo and Carlos met when they collaborated on an assignment to report on women's rights in Norway in 2009. Between 2014 and 2016 they travelled around the migratory route all the way from northern Africa to Finland's 1,300 km border with Russia to document the stories of Europe's borders.
Their collaboration resulted in the graphic novel La Grieta (The Crack), which has been translated into French, Italian, German and Japanese. On Amazon it has a consistent five-star rating and readers laud the work as "impressive" and "invaluable."
In 2015 the pair received a coveted World Press Photo award and subsequently they were asked by both the German weekly Süddeutsche Zeitung Magazin and the Spanish weekly El País Semanal to employ the same graphic novel format for a long-form feature on Syria.  This espoused their award-winning 26-page report Palmyra beautifully composed with compelling and original images.
The combination of visual narrative and sparse text has proven very successful in locking younger readers who are the largest market for fictional graphic novels.
In recent years, other authors have successfully used the graphic novel format to tell historical stories such as the American actor and LGBT activist George Takei who wrote the comic They Called Us Enemy about his family's internment at an armed camp in 1942 during World War II. 
Carlos and Guillermo also received glowing feedback from teachers whose students enjoyed their book, its modern visuals and its inclusion of the historical context. As a result, Carlos conducted a series of lectures and workshops around Europe.
While the concise picture of the future is patchy during this crisis, Carlos says he would like to continue documenting the state of Europe from many aspects, in particular in the aftermath of the lockdown and its potential exploitation by governments to stem free movement.
"This line of thought can be used to implement more restrictive policies in terms of mobility."
Carlos' own life has been positively shaped by open borders and migration. He has lived in several European countries, speaks four languages and, like many Europeans, met his wife during an Erasmus year in the United Kingdom. They have one son and currently reside in Madrid.
Read Carlos' 2019 Innovation Award winner graphic novel Palmyra, the other side here.